This is a guest contribution by Matt Harris is head of sports content at 90Digital.com. If you would like to submit a contribution please contact Bill Beatty for submission details. Thank you.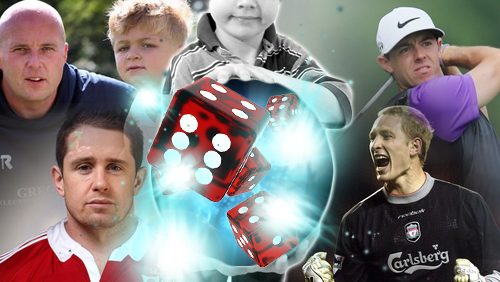 We've all seen stories relating to this rather niche area of the betting markets: A proud parent with a talented child gambles on their future sporting success whether it's a full international football cap, a slot as an England test cricketer or, in the case of Rory McIlroy's father, a punt on his son to win the Open Golf Championship.
In the news
It's fascinating to look back on the winning bets and the near misses while future gambles frequently make the headlines. Back in August, the press ran a story on four year old Billy Carroll – a promising cricketer who is already showing some precocious talent. Billy has already made his local cricket club's under nine team prompting his father Paul to bet that he will one day play for England.
"As a parent you always think your own kids are the best at everything but Billy has left all of the coaches stunned" said Carroll senior in the Mirror.
"He's been glued to the Ashes and is watching it with me as Joe Root is his hero and we all like to see the Aussies get hit for six."
So Billy clearly got his Ashes wish but will he justify his father's belief? The £25 bet is itself a relatively modest one but at odds of 1,000/1, there will be more than one reason to toast the youngster's future success while Paul Carroll would join a growing list of parents who have cashed in via the bookies.
I bet you can son
Perhaps the most famous example of a father – son betting profit is that of the McIlroy's. YouTube footage is widely available of a nine-year-old Rory who travelled from Northern Ireland to Florida and claimed the World Junior Title at under 10 level.
When he had reached the age of 15, father Gerry staked £200 at 500/1 on his son winning the Open Championship and when the 25 year old version of Rory lifted the Claret Jug ten years later, it cost Ladbrokes a cool £100,000.
"That was our single biggest payout for a bet of this kind," said Ladbrokes spokesman Alex Donohue.
"It was a painful experience and obviously accounts weren't too happy but the one positive is that it made for brilliant PR!"
Similar punts show even greater leaps of faith: When Welsh rugby union winger Shane Williams broke his country's all-time try scoring record back in 2008, his father Mike collected £25,000 after gambling £50 at 500-1 on his son achieving the feat. At the time the bet was made, Shane Williams had yet to even make his senior debut.
Biggest payout?
The successes of these parents are notable but they were both exceeded by that of Peter Edwards who collected a staggering £125,000 courtesy of his grandson Harry Wilson.
At 16, Liverpool's Wilson made his full international debut for Wales, becoming the youngest player to collect a full cap for his country and earning Edwards his huge payday after he'd staked £50 on someone who was barely a toddler back in 2000. The odds? A mighty 2,500-1.
A very near miss
Most football fans with a reasonable knowledge of the game were very aware of a similar gamble surrounding Chris Kirkland. In 1994, Kirkland's father Eddie took a relatively paltry 100/1 on his son winning a full England cap and placed, as part of a syndicate, a suitably precise sum of £98.10.
The syndicate collected but they almost lost the bet: A capable stopper for Sheffield Wednesday and Liverpool amongst others, Chris Kirkland was a regular member of the squad from 2003 onwards but just as it looked as though he would miss out, a brief substitute appearance in a 2006 friendly against Greece triggered the payout.
The stories are fascinating but the mechanics behind these bets are equally interesting. We've seen odds here from a mere 100/1 rising all the way up to Shane Williams' 2,500/1. Beyond plucking a number out of the air, is there any science behind it?
"To use a horse racing term we start with breeding lines," added Ladbrokes' Alex Donohue. "If there is a history of sporting success in the family then the odds will clearly be shorter but this isn't always a perfect indicator."
"Any current achievements at relevant age group level will also be assessed and ultimately, prices will generally fall between 500/1 and 10,000/1.
So don't expect a high price on Brooklyn Beckham or any of his siblings but it will be interesting to follow young Billy Carroll and see if he will follow the likes of McIlroy, Kirkland and Williams in triggering a huge payday for his family.
Matt Harris is head of sports content at 90Digital.com and a freelance sports writer who contributes regularly to betting.betfair.com
Comments