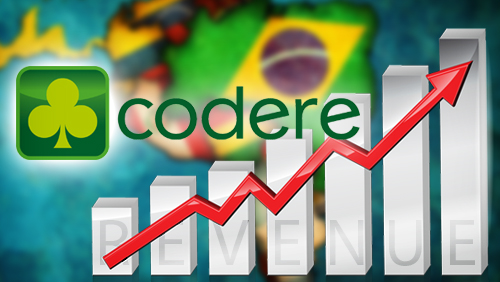 Spanish gaming operator Codere has reported revenue of €805.6m for the six months ending in June 30, a 22.7% increase from the same period a year ago.
The strong financial result is attributable to revenue growth in Latin America operations, with Argentina posting 44% increase to €326.6m, Mexico up 12.8% to €183.3m and Panama up 30.7% to €52.8m.
Adjusted EBITDA for the period also jumped 46.9% to €136.3m with operating profit growing by €42.7m to €64.9.
Operating expenses also increased 17.3% to €740.4m with Panama (€12.3m) and Argentina (€73.3m) as the main drivers, partly due to the appreciation of the Argentine peso and the dollar against the euro that exceeds the effects of the cost saving measures implemented in the businesses, and Italy (€12.8m) as a consequence of increased in annual machine fees to be distributed among the Italian gaming machine sector.
Financial expenses rose 3.5% to €65.5m. Financial assets represented a loss of €7.3m in the period as a result of losses in transactions in sovereign bonds. As a result, net loss for 1H 2015 was €48.7m, compared to €64.6m for the same period in 2014.
In Q2 2015, revenue increased 25% to €408.8m. Adjusted EBITDA exceeded the €60m-€63m guidance to €66.4m, up 49.2% from Q2 2014 due to the appreciation of most foreign exchange rates, the positive impact of the cost efficiency measures and the lower operating non-recurring costs.
The total number of machine seats has also increased to 51,957 in Q2 2015, compared to 51,664 during the same period in 2014, mainly explained by the growth of the portfolio in Argentina (6.6%), Mexico (4.5%) and Italy (0.7%). The total number of gaming halls and sports betting locations also increased to 180 and 1,769, respectively, in Q2 2015 from 172 and 1,640 in Q2 2014.
Codere expects Q3 2015 consolidated adjusted EBITDA to range from €70m–€73mm, representing an improvement of €13.2m–€16.2m compared to €56.8m adjusted EBITDA in Q3 2014.
Codere has also announced that its creditors have given the company until the end of 2015 to restructure its €1.1b ($1.2b) debt.
The continuous debt restructures of the gambling operator have seen the Sampedro family reduce its ownership in the company from 70% to 20%.
Codere re-elected CEO Jose Antonio Martinez Sampedro, who announced that following a successful debt restructure, the operator will look to form a new business entity in the coming months.
"Codere continues to work with the consenting noteholders and the original shareholder parties to agree final documentation for the restructuring and to satisfy all conditions to completion as soon as possible," said the company in a statement.
The debt restructuring will see Codere issue a €200m of private notes instead of €253m of term loans.
Comments