This is a guest contribution by RedBus Bingo & Winkly Magazine's Marketing Manager Eitan Gorodetsky. If you would like to submit a contribution please contact Bill Beatty for submission details. Thank you.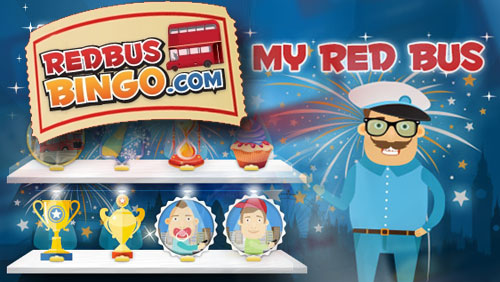 In the world of marketing, attracting customers is only the beginning. The key is to keep them coming back over and over again. This is particularly important for online bingo websites, where visitors will be spending relatively small sums for each game and a constant stream of returning players is necessary to keep the site profitable.
The new My Red Bus features from RedBus Bingo reward players for playing bingo, as well as the site's other games. As a result, it gives incentive to players to keep coming back, which helps maximise the site's revenue. For marketers, this suite of new features is worthy of further study to see how it might work in practice.
The following video explains how My Red Bus works:
The most crucial new feature that has been added as part of My Red Bus is the new level progress bar that shows at the top of the lobby. This will steadily go up through the levels as players play and win games. There are also challenges that can be viewed in the My Red Bus section along with individual progress bars showing how close the player is to completing each one.
This structure ensures that players have something to aim towards every time they visit the site, which is of key importance to maintaining their interest. The challenges include winning your first game and playing a certain number of games. As challenges are completed, players receive congratulatory messages and earn trophies that they can show off to fellow players. These enhance the competitive aspect of playing RedBus Bingo, providing yet more incentive to return again and again.
Further incentives are provided by game bonuses and win bonuses that increase their winnings. These become greater as higher levels are reached by a player with a maximum value of £100. Being able to achieve greater winnings is a carrot that helps to persuade players to stay on the site for longer in order to boost their bonuses.
The site includes a whole range of games in which visitors can participate in addition to bingo. These include slots, instants and scratch cards. The games also help players to level up, which gives an extra push for them to try out aspects of the site apart from its core bingo function.
Even more incentive is provided by benefits like free bingo tickets and free spins for the RedBus slot machines. All together this cocktail of incentives gives players powerful reasons to keep playing in order to progress, show off to their peers and win ever bigger prizes.
The site's new layout is designed to look attractive and be user-friendly across mobile and desktop platforms. This helps ensure that whenever a player feels the need to make a little more progress with the My Red Bus features, the site is always easily accessible to them even when they're away from their computer.
In addition, users will receive promo codes via email or the My Red Bus messages feature that they can use with the site to earn additional perks and bonuses. These remind users of the site and help to persuade them to return and play one more game.
From the site's launch in 2010, RedBus Bingo has offered a range of generous benefits to its users. These include special bonuses for new members and ones that are awarded when a member has been on the site for a certain amount of time. The intention behind this is to ensure that users feel like they are a valued part of the RedBus community. This should hopefully help persuade them to stay involved.
For marketers looking at how they can improve their own approach to achieving customer retention, the structure of the incentives that are provided by their web site are of key importance. RedBus has taken a comprehensive approach to improving the way that it attracts customers to play another game. The creative approach taken by the company offers a way forward, not just for bingo sites, but for gaming sites of all descriptions.
A great many marketers will be watching to see how effective the new personalised My Red Bus features are in terms of improving RedBus's profitability. If they succeed then they could well be copied throughout the industry.