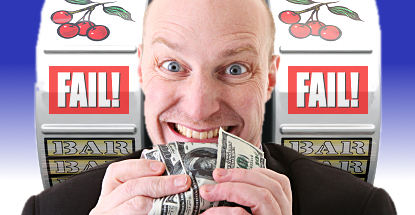 Maryland casinos earned record revenue in fiscal 2015 but operators are seeking permission to ensure they take in even more next year.
Maryland's Lottery and Gaming Control Agency reported that the state's five casinos generated revenue of $1.038b in the 12 months ending June 30. That's $204.2m more than the previous year, largely thanks to the state's newest casino, Horseshoe Casino Baltimore, which opened one year ago on Wednesday
Market leader Maryland Live earned $626.2m for the year, down only $28.2m from fiscal 2014, demonstrating its resiliency despite the new kid on the block getting all the attention.
Maryland Live's take was more than twice the Horseshoe's $236m, although the Shoe had two less months of earning opportunities. Comparisons aside, the Shoe still took in far less than the $425m its parent company Caesars Entertainment expected, a shortfall the company blamed in part on the race riots that plagued the city earlier this year.
The casinos kept just 51.9% of their total revenue, with the rest going to the state government. Both parties stand to keep a little more revenue in future years now that the Maryland Lottery and Gaming Control Commission is set to approve its casino licensees reducing the minimum average payouts on their slot machines.
In June, the Baltimore Sun reported that the casinos had requested lowering the minimum payout to 85% from its existing range of 90% to 95%. On Thursday, the Commission will reportedly recommend a new range of between 87% and 95%. Maryland law establishes a floor of 87% for slots payouts, which compares favorably with the 85% minimum in Pennsylvania and Ohio, 83% in New Jersey and 80% in super stingy West Virginia.
Regardless of the Shoe's failure to live up to its owners' expectations, or the four other operators' fears of future competition when MGM Resorts' National Harbor casino opens next year, the desire to divert millions of dollars that would have been headed for customers' pockets is extremely shortsighted.
A recent study commissioned by the Association of Gaming Equipment Manufacturers noted that slots handle has been falling since 2007 and that decreased slots payout ratios are likely accelerating this trend. So if you find yourself in a hole, why do you think the solution is to keep digging?
Comments