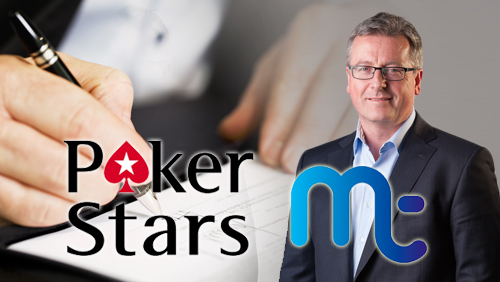 PokerStars, operators of the world's largest poker site, has agreed a three year hosting contract with Manx Telecom. A total of 48 data hosting racks and associated equipment will be relocated from their current location in Dublin to the world class Tier 3 Greenhill Data Centre (GDC) which opened last year. The contract has enabled Manx Telecom to proceed with building phase two of the GDC project. PokerStars has been one of the company's hosting clients since 2005, and this new agreement is in addition to the hosting services already provided by Manx Telecom.
Contracts for construction, mechanical and electrical works for phase two of GDC have been awarded to Isle of Man firm SCS (Stewart Clague Services Ltd) which will mean that it will be delivered using approximately 95% local labour.
Manx Telecom CEO Gary Lamb commented:
"This contract extends and expands the very successful relationship we have with PokerStars, and represents another endorsement of our commitment to invest a total of £10million in the GDC project. Phase one is already home to a variety of hosting and managed services customers across several sectors, and we're delighted that we can now progress with phase two. This new PokerStars contract is excellent news for Manx Telecom and enhances our global reputation as a world class hosting provider – but it's also great news for the Isle of Man's eGaming sector and the local economy."
Gary Hill, Director of IT Operations at PokerStars, said:
"Being offline costs money, that's why we rely on a world class hosting provider who can provide hosting which meets the highest standards of quality, security and resilience. We're delighted to award this new contract to Manx Telecom and to extend our association with a trusted business partner."
Manx Telecom also owns and operates its Douglas North data centre which opened in 2005 – with GDC this means that the company is the only Isle of Man provider with two Tier 3 data centres. This rating is only given to facilities which meet world class standards. The design for phase two of GDC, which was carried out by technical design specialists Arup, incorporates enhanced levels of uninterruptable power supplies (UPS) which provide improved resilience when compared with a 'standard' Tier 3 UPS configuration. Phase two of GDC is expected to be operational by October this year.
For more information about Manx Telecom's data hosting solutions go to www.manxtelecom.com/hosting – for information about eGaming solutions go to www.manxtelecom.com/business/egaming.aspx

For further enquiries, please contact MM&C by calling 01624 678001 or emailing:
Fiona Clark-Wilson – [email protected]
Richard Allen – [email protected]
Rebecca Sayle – [email protected]
About Manx Telecom
Manx Telecom is the leading communication solutions provider on the Isle of Man, offering a wide range of fixed line, broadband, mobile, and data centre services to businesses, consumers and the public sector on the Isle of Man as well as a growing portfolio of innovative hosting and "Smart SIM" solutions to off-Island customers.
Manx Telecom has a record of innovation, being the first European operator to launch a 3G mobile service and the first in the world to launch a 3.5G mobile service. 4G service launched in the summer of 2014, and it is now available to contract and pre-pay customers with 99% population coverage. The Company's high speed VDSL broadband service (Ultima) is available to 87 per cent of homes on the Island. A VDSL Plus service launched in February 2015.
The Company has three data centres (two of which are Tier 3) plus international connectivity and its operations are business-critical to the economic strategy of the Isle of Man.
One of the largest employers on the Island, Manx Telecom employs nearly 300 people. The company plays a major role in the wider community through a range of activities, including charitable donations, sponsorships, and corporate social responsibility initiatives.
The company is proud to sponsor the Manx Telecom Parish Walk, Tough Mann Adventure Challenge, Manx Telecom End2End Mountain Bike Challenge, Team Manx Telecom (Manx Road Club) and Royal Manx Agricultural Show as well as other smaller events. Manx Telecom also donates annually to local causes through the company's "It's our Community" programme.
The Isle of Man has a resilient and growing economy which has experienced 29 years of unbroken GDP growth. Unemployment is low at 2.0 per cent, and there is a zero per cent corporate tax rate which applies to the vast majority of Manx Telecom's business and means that the Group currently pays no corporation tax on its annual profits.
Manx Telecom is listed on the Alternative Investment Market of the London Stock Exchange with the ticker MANX.
Comments