When I think of NFC technology, I think my office key fob or tapping my credit card on a card machine to pay for something worth £20 or less.  NFC and also Beacon technology have been around for a while now and many of us take advantage of it in everyday life, even if we aren't aware of it.
NFC and Beacon technology have clear benefits for the gambling industry, especially when it comes to land based casinos and their mobile apps.  The technology enables patrons to receive offers on their mobiles for casino games, online and offline and also for shops, restaurants, clubs, etc, from within the property.
Tapcentive, one of the GiGse 2015 Start-Up Launchpad finalists, is a mobile engagement platform company that bridges the physical and digital worlds by using both NFC and Beacon technology.  I spoke with the company's CEO Dave Wentker to find out how his company's innovative technology can deliver gamified targeted incentives to patrons and why this is such an effective engagement tool for casinos.
Becky Liggero: Thank you so much for joining me today, Dave.  Let's start with how NFC and Beacons have changed the mobile marketing landscape and what the difference is between the two technologies? 
Dave Wentker: NFC and Beacons are just starting to take off with both Apple and Android devices now including support for both technologies. Each can be used in a variety of different ways to create powerful, interactive experiences in a physical environment.
Similar to the Apple Pay experience where a consumer taps their phone to payment terminal to initiate a payment, NFC interactions only operate at close range (<= 10 cm) and must be consumer initiated. Beacons are designed for longer range (up to 30M) interrupt-driven engagements where the consumer's phones picks up a broadcast from a beacon and then responds to it.
In addition to the different user engagement models for the technologies, NFC works really well on Android and Beacons work really well with the iPhone.
For a casino operator, having to choose between these technologies and different engagement models is a real challenge. That's why we designed Tapcentive to use a combination of both technologies to reach as many phones as possible, and to do so with a consistent user experience – a customer initiated tap.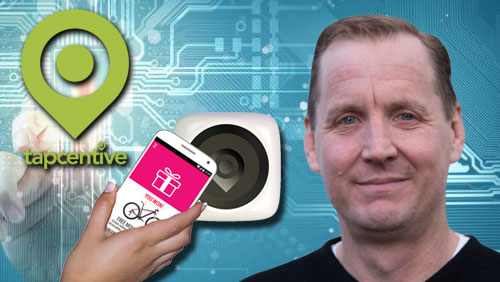 BL: So Tapcentive uses NFC and Beacon technology to deliver gamified targeted incentives.  Why are these types of incentives so powerful? 
DW: Using gamification with incentives adds a level of excitement to the offers that keeps casino patrons in a positive state of mind while in an environment. With today's tech savvy patrons wanting to do everything on their phones and wanting immediate gratification, there's nothing quite like tapping your phone to magic devices placed throughout a casino to discover what the casino will reveal for you next.
Targeting also means combining these incentives with location analytics to make the incentives contextually relevant which is also extremely important to delivering satisfying experiences for patrons. For example, while I'm waiting in line to get into a club, if I tap my phone for a chance to skip the line or just earn a special incentive for reaching a spend threshold in the club – in either case I'm excited, and it gave me something to do.
BL :Nothing worse than waiting in line with nothing to do!  So tell me why it's so important for Tapcentive's technology to marry the digital and physical gaming worlds?
DW: Tapcentive is a white label platform designed to enhance and extend existing marketing, loyalty, and mobile initiatives by a casino.
With Tapcentive integrated in a casino's mobile app, the app now become an essential part of an on-property visit because it unlocks additional experiences not possible if the patron doesn't have the app. Then, once the patron has the app, the channel is open between the casino and patron to engage away from the casino by providing information about upcoming events and promotions that encourage the patron to return.
Additionally, online and mobile development by many casinos today includes social casinos. With Tapcentive the opportunity exists to link the social casino to the physical casino in a way that creates a virtuous cycle of online-to-offline engagement with promotions such as reloading a social casino account with virtual currency in exchange for a visit and tap in key locations within the physical casino.
BL: Sounds like lots of exciting opportunities here for casinos with all this new technology.  Thank you so much for joining me today, Dave.