Raheem Sterling and Morgan Schneiderlin are both heading to Manchester for medicals after their respective clubs agreed to let their stars move to the blue and red half of the city.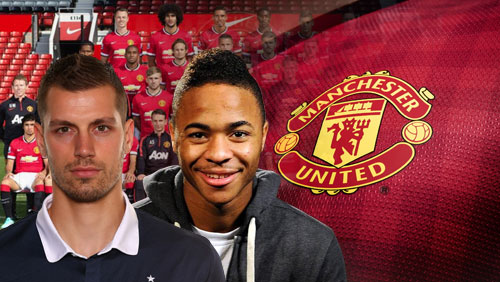 It seems the most protracted transfer saga of the summer is nearly done after press reports indicate that Raheem Sterling is scheduled to arrive in Manchester, today, for a medical that will surely cement his £49m move to the blue half of the city.
After having two previous bids rejected by Liverpool, it was a surety that the English transfer record was going to be broken. That record had been held by Andy Carroll after Liverpool agreed to pay the ridiculous sum of £35m to Newcastle back in 2011.
The 20-year old leaves Liverpool after three years in the first team that has seen him make 92 appearances scored 18 goals and made 14 assists. I have to admit, I like watching the lad flying down the wing for England, but those statistics do not demand a fee that big. Sterling signed from QPR as a 15-year old, back in 2010, and the newest member of the Championship will receive 20% of any sale.
Speculation of a move increased when Sterling pulled out of a 30-man squad for a tour of Thailand, Australia and Malaysia citing sickness. Now it seems only the formalities of a medical will prevent the switch. It's great news for an ageing City side that struggled to make an impact last year. Liverpool, on the other hand, is losing their second major star in the past two seasons after Luis Suarez joined Barcelona the year prior. That move hit Liverpool hard, it will be interesting to see if this one has the same effect.
Morgan Schneiderlin to Make United Switch
Raheem Sterling is not the only player in Manchester having his balls cupped today. According to press reports Southampton star Morgan Schneiderlin is also in town to have a medical with Manchester United ahead of a £25m+ switch.
Southampton manager Ronald Koeman has admitted that a deal is in place, and once again, it seems only the formalities of the doctors nod will stop the move taking place.
Schneiderlin's move comes days after United confirmed the signing of the Bayern Munich midfielder Bastian Schweinsteiger. Add Memphis Depay and Matteo Darmian into the mix, and you have to say that United's chances of tussling for the title look better than anytime since Alex Ferguson left the club is disarray back in 2013.
Comments