Lee Davy filters through the excellent reporting done by the WSOP.com crew to bring you all the entrees and exits from the 3rd day of action in the $10,000 buy-in World Series of Poker (WSOP) Main Event.
This game can be hideous.
This game can be heartwarming.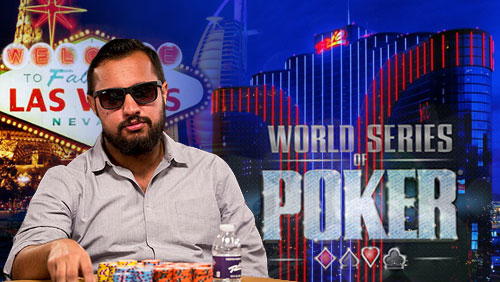 Day 3 of the World Series of Poker (WSOP) Main Event was a time when the heavy heat closed ranks, slammed the doors shut, and squeezed nothing but excitement into the remaining atmosphere. And then at just the right time, the doors opened, the heady-heat was expunged, and for one poor sap it felt like an empty tomb.
6,420 players started this thing, and 661 of them intend to finish it. There can only be one. Amar Anand started the day as the chip leader, and he ended the day with the same title. Brian Hastings and Fedor Holz also ended the day with chip stacks designed to go deep.
Here is the breakdown of all the action.
Level 11
WSOP bracelet winner John Esposito had made one final table appearance this summer. He won't be making a second: Zach Daly knocking him out of the park AA>88. Brian Yoon was eliminated by Jennifer Powers JJ<KK, Melanie Weisner was eliminated by Louise Francoeur JJ>QQ, and Greg Raymer also bit the dust somewhere within that 90-minutes.
The story of the level was the continued ascent of Amar Anand. He took three sumptuous streets of value from Marcelo Fonseca on a jack high board, holding AA>QQ to extend his chip lead to 834,500.
Level 12
What a difference a year makes.
Last year, Brandon Shack-Harris was taking the series by storm. This year it had barely drizzled. Only the Main Event could get him out of his hole. It didn't offer up a helping hand. He was eliminated AJ>AA.
Vinny Pahuja joined him after running AT into AQ, Sean Dempsey did likewise when he ran AJ into aces, and Keith Lehr continued to eliminate super star names when he brought a swinging club down on the head of Dan Colman A7>Q2.
Upeshka De Silva didn't believe the story that Byron Kaverman was trying to sell, sending the recent bracelet winner home after a three-barreled bluff. Kyle Bowker was ousted by Albertus Stegeman KQ<AJ, and Brad Garret also caught the bluffing bug going out of the event in a hand against Shiva Dudani.
Brian Hastings was the man of the level winning a huge pot after turning and rivering trips to get maximum value from someone a little invested in top pair. Anand still had the chip lead with 850,100 chips, but Hastings was catching up fast with 813,900.
Level 13
Six high profile eliminations to get you up to speed on in the unluckiest level for some.
$10k H.O.R.S.E champion Andrew Barber was ahead when the money went in on 4h3h3c. He was holding AQ, his opponent A9hh, and two further hearts left him with broken defibrillator paddles.
Tobias Reinkemeier saw his AK cracked by Maxime Chilaud's AQ, Timothy Adams couldn't win his important flip against Rob Salabru, the same went for Bryan Devonshire and Chris Moorman, before we lost Andrey Zaichenko AJ
Daniel Alaei, Sorel Mizzi and Martin Staszko also failed to reach the 14th Level. 1,051 players remained, and Brian Hastings had the chip lead with 1,225,000 chips.
Level 14
The 14th level is where the bubble broke.
Mike Matusow busted at the hands of Anand. All the money going in on the turn on a board of Ts8c4c3h with Matusow holding KTcc, for top pair and the flush draw, and Anand holding 83dd for two pair. The river producing nothing for Matusow and The Mouth was shut.
When the bubble burst there were two players affected: Roy Daoud and Jonas Lauck, but it was Lauck who was feeling like he had just rode down a razor blade using his balls as brakes.
Daoud had no option but to turn over his cards after Josh Ladiness had put him all-in from the SB. Daoud, who was seated in the BB, couldn't believe his luck when he turned pocket fives against the 75o of his opponent. It seemed that all he needed to do was to fade a seven. The deck had other ideas. Kc9s4cKs9c ensuring that both players ended up with kings and nines, and the seven kicker played. Daoud was out.
Daoud didn't have a choice in his bubble hand, Lauck certainly did. He opened for 7k EP and called a 19k 3B from Samuel Gagnon. The board ran out Ks5h4cTsAs and Lauck check-called three streets from Gagnon, including his shove on the river. Lauck showed AQ, but Gagnon had QJ for the straight.
So two players were felted on the bubble. Only one of them would win entry into the 2016 WSOP Main Event. The officials believed the best way to determine the winner would be to draw for high card. I think the pair would have rather had a punch up in the parking lot. Daoud drew a jack, Lauck drew a seven, and if you can think of a way of ending a WSOP in a worse state than that then answers on a postcard please.
And then the gates opened.
Players were puked out of the contest en masse.
Alex Bolotin's AK couldn't beat pocket tens, Keith Lehr's AQ couldn't beat the pocket nines of Steve Gross, Amir Lehavot would not be making another Main Event final table after his A7o ran into the aces of Ty Witteman, and Martin Kozlov exited at the hands of Ali Shojania AQcc<KK.
Hoyt Corkins, Dan Kelly, Cliff Josephy and Tristan Wade were other big names to lose their positions in the post bubble mayhem.
Level 15
Eight more eliminations before the Rio shut down for business.
Talal Shakerchi ran AQ into the AK of Patrick Chan, Allen Cunningham's short stack produced a T9cc shove that didn't fair well against AK, Craig Varnell ran into a set of treys, Dan Cates deuces were no good for the lucky sevens of Manuel Blaschke, the uber-talented Adrian Mateos Diaz was unlucky to see his kings cracked by jacks, Day 1A chip leader William Kakon lost a flip against Tim Moore, Jeff Gross was eliminated QJ>33, and Fedor Holz finished the day in fine fettle after eliminating the former world champion Scotty Nguyen ATo>88.
Top 10 Chip Counts
1st. Amar Anand – 1,139,000
2nd. Joseph McKeehen – 1,052,000
3rd. Brian Hastings – 1,034,500
4th. Fedor Holz – 994,000
5th. Jason Roberts – 948,000
6th. Emmanuel Lopez – 942,000
7th. Jake Toole – 940,000
8th. Chad Power – 917,500
9th. Stephen Graner – 916,000
10th. Dmitry Chop – 901,500
Other notables remaining include former world champions Jim Bechtel (575k), Joe Hachem (414,500), Phil Hellmuth (170,500), Ryan Riess (143,500) and Jonathan Duhamel (53,000).