I've been a part of the CalvinAyre.com team since August 1, 2009, prior to the site's actual launch in late November 2009.  What a wild ride its been, helping to shape the online gambling industry's number one news source into what it is today.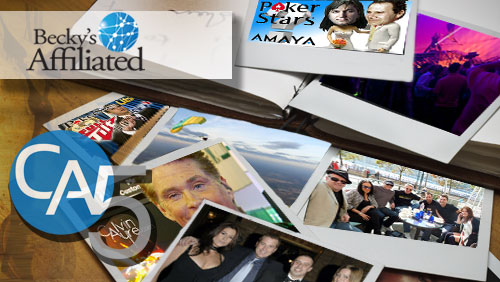 Throughout the past five plus years, thanks to CalvinAyre.com I have experienced and learned so much, travelled the world, been to countless conferences and parties, interviewed all sorts of industry influencers and celebrities, embarked on a number of random adventures and produced a huge amount of content for all of our viewers.
I've said this many times before and I'll say it again, I have the best job in the world and I am so delighted to be celebrating Five Years of CalvinAyre.com Greatness, the first five of many more to come.
Reporting from the CalvinAyre.com 5 Year Anniversary Party this past weekend made me feel rather nostalgic, so this week I wanted to share my top ten memories from our five year history of gaming industry news, information, event and lifestyle coverage.
10)Party SINdex (RIP)
Who remembers the CalvinAyre.com Party SINdex? I certainly do because it used to be my job at all online gambling industry conferences to attend every single party, take a bunch of pictures, write up a report and identify the recipient of our "DAF" Award, aka, Drunk as F***.
While this practice provided plenty of amusement for our viewers, the DAF Award did not amuse the recipient and attending every party was aggressive for our team, so we called it quits.  Its still a nice memory though…
9)Scott Longley April Fools Joke
Executing April Fools jokes are a specialty of our Founder Calvin Ayre and we pulled off a good one on April 1, 2011.  The joke was that Scott Longley, former editor of eGaming Review, had taken over the CalvinAyre.com website.  Seeing as Longley's style (and faith in public iGaming companies) is the polar opposite of ours, this April Fool's trick was especially comical to those who are familiar with both publications.
8)Sky Diving Adventure
Its all about work hard, play hard in the online gambling industry and one of my first adventures after joining the CalvinAyre.com team was to go sky diving in Montreal, because why not, right?  This sky diving adventure was also my first on-camera experience, so double nerve-wracking for me, to say the least.
7)Bwin/Party Gaming Predictions & Bwin.Party Coverage
Calvin Ayre and the CalvinAyre.com writers have been covering the Bwin/Party Gaming merger, publishing their predictions and opinions on how the merger will fail and now covering the demise of the merger for an almost exact five years to the day.
Needless to say, our predictions were correct- a nice memory for us, not so much for them.
6)Booze n' Castles Prague
For the first few years of CalvinAyre.com's existence, we produced a "Booze n' Castles" series where Calvin visited a brewery and then took a tour of a castle, specifically in that order. Why? Because a castle tour is boring unless you're drunk, obviously.
Both Calvin and I were in Prague for the iGaming Super Show in 2010, so he invited me along for a Booze n' Castles shoot, one of the most fun (and educational) days I've ever had.
5)David Hasselhoff Interview
One of the biggest perks as Lead Reporter for CalvinAyre.com is exposure to high profile professionals and celebrities via on-camera interviews for the site.  My list of incredible interviewees is a long one, but my ultimate favorite and claim to fame is the David Hasselhoff interview I conducted at G2E in 2012.
Ike McFadden of MX Digital arranged a thirty minute time slot for CalvinAyre.com at the show during which I was given free reign to chat with the Hoff about whatever I wanted on camera.  I've never been so nervous in my life, to the point where my whole body was shaking, but it was certainly the interview of a lifetime.
4)The Best Black Friday Coverage
April 15, 2011 is a date right up there with September 30, 2006, the day UIGEA was passed.  April 15th, 2011 is the day when the DOJ shut down PokerStarts, Full Tilt, Absolute Poker and Ultimate Bet to all American customers, a day dubbed as "Black Friday" by the poker community.
While Black Friday itself is a not a nice memory, the CalvinAyre.com coverage of this event and its aftermath was outstanding, most of the work done by our star writer Steven Stradbrooke.  Each day as new information was released, Stradbrooke condensed it into bite size pieces, a process that went on for days after the DOJ shut-down.
3)Calvin Ayre Budapest Affiliate Conference Keynote Speech
When Calvin Ayre was asked to deliver a keynote speech at the 2009 Budapest Affiliate Conference he accepted, but this wasn't going to be your usual boring keynote speech.
The CalvinAyre.com crew produced a mini-party within the conference room with live music, dancers, costumes, alcoholic beverages, masks, Calvin dressed as the Phantom of the Opera and Pierre the midget serving Calvin martinis as he delivered a concise message at the podium.
2)Breaking the Amaya/PokerStars Story
I think its fair to say the biggest news we've had in the past year is Amaya's acquisition of PokerStars and CalvinAyre.com is the news source that broke the story.  Since the rumors we published have come to fruition, once again Steven Stradbrooke has done an amazing job of covering the aftermath from the official announcement on June 13, 2014 until today.
1)CalvinAyre.com Launch Party
Without a doubt, the CalvinAyre.com Launch Party in Prague during the iGaming Super Show was the best party I've ever covered.  An invite to this celebration was worth its weight in gold and industry professionals were pulling whatever strings they could (mostly mine) to get on the guest list.
The post-apocalyptic Mad Max movie theme of this party was both scary and titillating with friskers at the door decked out in pith helmets, guns and axes, live pigs in a pen, dead pigs on a spit, barrels ablaze, mud wrestling women, a Tina Turner impersonator and quite a bit more that you would have to see to believe.