For the first time in five years I will be jetting off to Macau and for the first time ever I will be attending G2E Asia.  I have been looking forward to this particular conference because the Asian gambling market is booming and buzzing, the exact opposite of the regulated US iGaming market we discussed at iGaming North America and GiGse 2015.
While its always interesting to peruse the booths on display at events like this, I'm especially excited for the iGaming Summit, a day of sessions organized by Asia Gaming Brief (AGB) and designed to address the hottest issues surrounding the iGaming market in Asia.  The other two days of sessions are more focused on the land based gambling market in Asia, in particular the health of the markets and where new opportunities lie.
In an effort to help you decide what sessions to attend, I've included my top five picks below.  If you're unable to attend G2E Asia 2015, keep an eye on our daily video coverage of the event from Tuesday, May 19 through Thursday, May 21 and if you what you see, perhaps you will consider attending next year…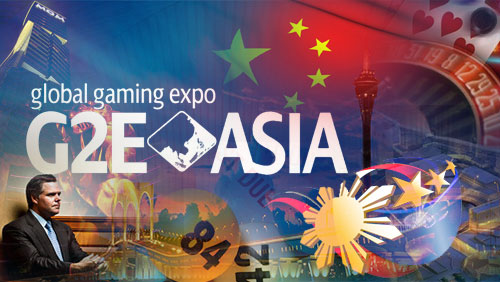 Chinese Tourism on the Rise: How Gaming Attracts the Masses
Just think about when you are in a major city and the bus loads of people you see from China carrying around their cameras and selfie sticks.  The Chinese simply love tourist attractions and they also love to gamble.
The amount of Chinese travellers has been projected to double over the next five years and this session will cover the development of tourism around gaming.  Questions such as how to attract the Chinese traveller, how much they are willing to spend and how to get their attention will be addressed.
Time: Tuesday, May 19, 13:00-14:00
Moderator: Andrew Gellatly, Head of Global Research Services, Gambling Compliance
Speakers: Aaron Fischer, Head of Consumer & Gaming Research, CLSA
Glenn McCartney, Assistant Professor in Gaming and Hospitality Management, University of Macau
Philippines: Development Strategies Pay Off
We all had our doubts about the aggressive development of Integrated Resorts in Manila's Entertainment City, but things are actually turning out quite well for the project.  There are still two more IRs scheduled to open and this session will address how Entertainment City will keep the people coming.
There is a domestic market to consider, especially with the Philippines' growing economy and also a junket system that will clearly play a large part in bringing in the whales.  Hear from Thomas Arasi of Solaire and Matt Hurst of Tiger Resorts on these issues and others involving Entertainment City.
Time: Tuesday, May 19, 16:00-16:35
Moderator: Ben Lee, Managing Partner, IGamiX Management & Consulting Ltd
Speakers: Thomas Arasi, President, Chief Operating Officer & Board Director, Solaire Resort and Casino
Matt Hurst, EVP – Casino Operations and Marketing, Tiger Resort Leisure and Entertainment, Inc.
Keynote Address: James Murren Chairman and CEO MGM Resorts International
James Murren is one of the bigger names in the global gambling industry, currently serving as the CEO of MGM Resorts International.  MGM has a presence in both Las Vegas and Macau, all properties with a focus on entertainment rather than ease of gambling.  Despite the decline in Macau's revenue numbers, Murren is optimistic about the situation and believes the growth of entertainment on the island will attract more people and more revenue.
During this G2E Asia keynote session, we'll spend an hour with the gambling icon and learn about his plans for MGM Resorts in Macau and hear his thoughts on how to establish more non-gaming attractions in the region.
Time: Wednesday, May 20, 9:30-10:30
Moderator: Grant Govertsen, Managing Partner, Union Gaming Research Macau
Speaker: James Murren, Chairman and CEO, MGM Resorts International
Supply Side Economics: How Games Drive Asian Markets
This is a panel packed with heavy hitters, the CEOs of IGT, Scientific Games and Aristocrat.  These gambling industry suppliers have all been challenged with creating games that appeal to the Asian market, especially the Chinese mass market, while dealing with regulatory restrictions and rapidly developing markets.
These visionaries will also discuss opportunities for innovation in game development and predictions for the future when it comes to game design in Asia's gambling market.
Time: Wednesday, May 20, 15:00-16:00
Moderator: Andrew Zarnett, Managing Director, Deutsche Bank
Speakers: Walter Bugno, Chief Executive Officer, IGT International
Gavin Isaacs, President and Chief Executive Officer, Scientific Games
Jamie O'Dell, CEO and Managing Director, Aristocrat Leisure Limited
A Sporting Chance: Modernizing Asia's Lotteries
Online gambling might be illegal within Mainland China's borders, but the traditional, mobile and online lotteries are regulated and accepted by the Chinese government.
This session will cover what guidelines developers must follow for their games to be approved by Chinese lottery officials.  The future of the lotteries and their modernization will also be covered, certainly an area of opportunity for international online gambling suppliers.
Time: Thursday, May 21, 13:20-14:20
Speakers: Geaspar Byrne, Head of Corporate Development, Strategic Planning & Investor Relations, AGTech
Filippos Antonopoulos, CEO, Vermantia
Kapil Khanna, CEO, Futuregaming
John English, CEO, WEBE GamingID: PS: