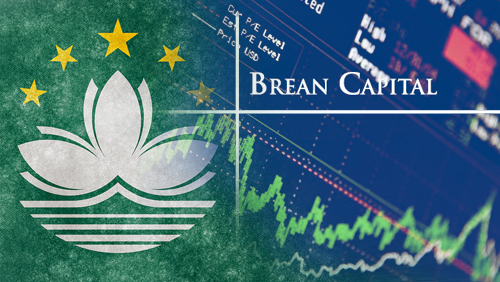 The decline is relentless. It was in late March that Brean Capital put its reputation on the line and made a bullish call on Macau stocks. It had a $174 target on Wynn from $132. Wynn is now at $114, nearly cut in half from its highs. It called for a $65 target on Las Vegas Sands from $56. LVS is now trading below $52. A $27 target on MGM from $22.60, now trading at $19.30. Finally, it had a $31 target on Melco Crown (MPEL) from $23, and Melco is trading at $19.75.
That's a batting average of 0. All of its bullish calls have declined, with the most damage being done by MGM at a loss of 14.5%, and its best call, comparatively, being LVS, down only 7.5%. Full disclosure, in my commentary on that bullish call, I said Wynn and LVS were headed down though a cautionary hedge may be warranted, MGM was safe to buy on dips only, and Melco was OK to go long but to keep your eye on system financial trouble. I was wrong on Melco and MGM.
It could be that Brean was just trying to unload a few positions on the four stocks it was calling to go up, in which case it succeeded on all four of them. Either that, or it has egg on its face and its clients are pretty upset. I would tend to think these calls were all fake, because firms like Brean can get clients by simply publishing their annual returns instead of pinning themselves to specific stock calls and even more meaningless "targets". They don't have to stick their necks out in order to get business. They simply have to make the right calls and keep them private, and word will spread. So I would say Brean succeeded here in fooling those who follow "targets" and unloaded their Macau stocks on unsuspecting retail investors.
The troubling thing though is that all four of these stocks, including Melco which was most surprising, simply continued to tank despite heavily oversold conditions. While Melco's Q1 profit fell 75% year over year, it's not that itself that is surprising. Rather, it's that despite expectations of earnings declines, which should normally put in bids under stock prices, Melco just kept falling. Its newest resort City of Dreams Manilla only added $2.9M to its earnings, which is just a drop in the bucket compared to its flagship property City of Dreams Macau. This should remind us all of how massive Macau is, and that expanding to smaller markets does not make up for those losses.
The background is equally gloomy. The mainland Chinese economy continues to sputter by Chinese standards. The People's Bank of China cut interest rates once again to record lows of 5.1%, which is still astronomically high compared to the quite literally insane negative interest rate levels seen in the West, most recently in Germany and Switzerland.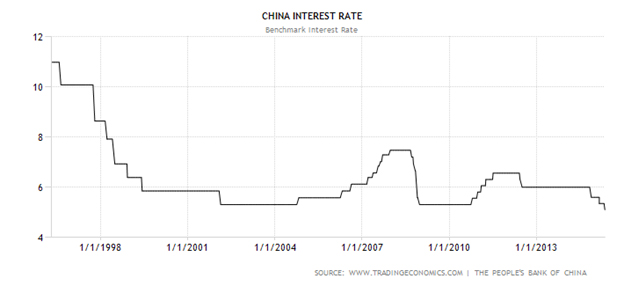 So while Chinese monetary policy is still looser than ever, it is still tighter than any other major economy. The biggest question is how much looser can it get before price inflation gets out of control, at which point the PBOC will have to raise rates back up and destroy its stock market. The fact that major Macau stocks cannot even react positively to lower interest rates is very troubling.
The Asian gaming stocks that are still rising through all this are the diversified ones outside of Macau. With all the financial chaos flooding the world, perhaps one of the most diverse stock place in gaming is Genting Berhad (GEBHY). Rarely do you have a company focused on agriculture, gas and oil, and gaming all at the same time, with a strong presence in Singapore, one of the few places that can be considered relatively safe due to less insane economic policies. Looking back on the Brean call for a second, its least unsuccessful call was LVS, which declined about 50% less than the other three stocks since late March. LVS also happens to have the highest exposure to Singapore of the four.
A look at the corporate structure of Genting Berhad shows its wide center of gravity, at least compared to other gaming stocks.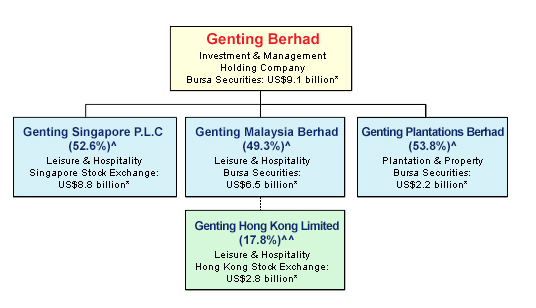 Genting Plantations exports palm oil, that stuff you find in confectionary treats and candies and such, and has various oil and gas ventures. Agriculture, oil, and gas are great places to be in preparation for global price inflation, a natural protection you just don't get from other gaming stocks. It is also trying to get rid of Genting Hong Kong even at a loss, which betrays its feelings about China. It has finally broken ground on its Las Vegas project, to be the first foreign casino in Las Vegas and the first development project on the Las Vegas Strip in 10 years.
While I don't see expanding to Las Vegas as a particularly good investment for an Asian company long term, the fact that they are actually doing it could help to catalyze some excitement in the stock, at least over the next six months to a year and a half or so. Let's not forget that the biggest sufferer from the last US housing collapse was the State of Nevada, and the same ultra low interest rates that led to the last boom and bust are even worse now. Nevada could get caught once again, and by the time 2018 rolls around when Genting expects its Resorts World Las Vegas to be completed, it may have already happened.