Inspired Gaming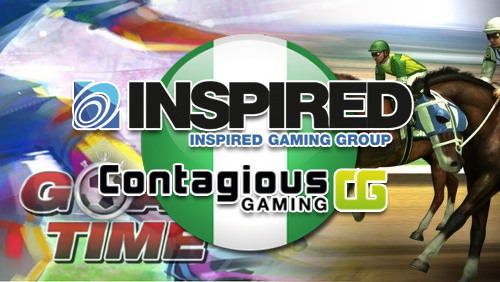 has launched its Virtual Sports products in Nigeria, across Surebet247 retail venues via a satellite TV feed.
Surebet247 has launched nine of Inspired's Virtual Sports and games – horses, dogs, cars, speedway, cycling, tennis, football, roulette and keno—at 1,100 retail outlets while the remaining 800 outlets will go live later this year.
"Nigeria is one of the fastest growing sports bet markets in EMEA. The introduction of our Virtuals will help Surebet247 to capture more player demand for betting entertainment products, due to the high frequency of the events, which can be scheduled for every three minutes," said Inspired SVP Virtual Sports Steve Rogers. "Inspired's Virtuals have become renowned for being a market-leading product due to the quality of graphics, range of sports and bet markets, and the flexibility of the technology. In addition, we were swiftly able to meet Surebet247's needs across its entire estate by delivering content via our satellite TV feed."
Surebet247 CEO Sheriff Olaniyan added, "We are thrilled with the performance of Inspired's Virtuals. We looked in detail at all the Virtual Sports products on the market and Inspired's proposition was head and shoulders above its competitors – especially its Virtual Football product, which is already going down a storm with our players. "
GOAL TIME FOR CONTAGIOUS GAMING IN NIGERIA AND GHANA
Meanwhile, Contagious Gaming continues to open new markets, launching its Goal Time online and mobile offering in Nigeria and Ghana under its license agreement with Manyx Interactive.
Goal Time was launched for the Barclays Premier League match between Manchester United and Crystal Palace on Saturday.
"We are delighted and excited to announce the first launch of our Goal Time software platform into the African continent under our licensing model. Nigeria and Ghana represent two significant soccer markets with a huge following of the Barclays Premier League," said Contagious Gaming CEO and Director Peter Glancy.
Glancy also said that the structure of this agreement provides Contagious Gaming with additional focus and opportunity to operate Goal Time in the company's core markets, while it continues to expand the business into other key global football markets via its licensing model.
Comments