Global Gaming Expo Asia (G2E Asia), regarded as the premier and huge Asian trade event and regional sourcing platform for global gaming and entertainment products, is back and will be held on May 19–21 at the Venetian Macao.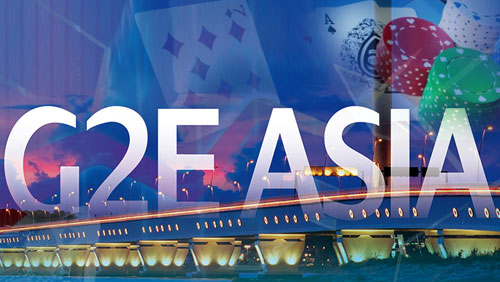 Organized by the American Gaming Association (AGA) and Reed Exhibitions, G2E Asia made its debut in June 2007, defining itself as the leading event for the gaming entertainment industry in Asia. In 2014, the event saw a record breaking audited attendance of 8,233 daily attendees—an astounding 36% increase compared to the 2013 event. The show floor encompassed 8,640 square meters (up 16% from 2013) with 160 exhibitors (up 13% from 2013) representing more than 80 countries.
This year, organizers announced new features to G2E Asia 2015.
For three days, i-Gaming conference, held in-conjunction with G2E Asia, will be the center of the online gaming community in Asia from land-based and online bingo, casino, lottery, mobile and social gaming. It offers an excellent opportunity among i-gaming solutions providers to meet qualified and high value buyers, and establish new contacts, launch new products and gain insights to the latest industry development on regulations and to ensure your company to capture the market share in the Asian region.
G2E will also introduce one2one event for IT solutions and Interior design and décor.
My G2E Asia Network + Mobile App—an innovative networking tool residing in the G2E Asia website and linked with Mobile App
At the show, new product information will be highlighted in the "NEW PRODUCT GALLERY", located at a prime location in the concourse, to facilitate buyers on new product sourcing. On the website; it will be featured in the new dedicated NEW PRODUCT GUIDE page.
This week, G2E Asia has released its list of new exhibitors and products including Ample Technology Development Limited, Arbor Networks, Belize Online Club Group Co., Ltd., Canon Hong Kong Company Limited, Doctorgaming, Elo Touch Solutions, Ezugi N.V., Game Vault Ltd., Gameplay Interactive, Gasser Chair Company Inc., Incapsula, IndigoVision, Inter Drink, JBA Consulting Engineers Inc., JOL Macau Ltd., KPK Network Services Inc. and more.
All Asia Dealer's Championship, a regional competition platform, will be held croupiers to showcase their talents and skills while sharing experiences with their peers from other Asia jurisdictions. The event aims to honor the front staff of the industry and foster their career development.
For more information visit the event website www.g2easia.com or click the link to register.
Comments