Lee Davy continues his confessions series with a look at the Global Poker Index Poker Media Content of the Year award, and points out a very early contender.
Can you remember who won the Main Event at the European Poker Tour (EPT) stop in Malta?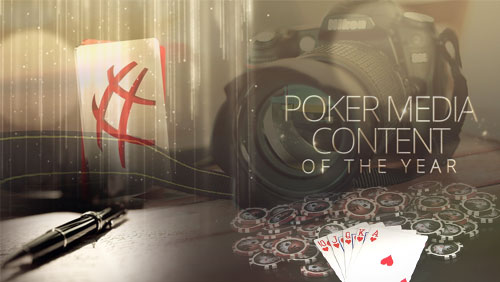 Can you remember who he beat heads-up?
The event took place less than a month ago, and unless you were a blogger covering the event, in real time, I doubt that too many of you will know the answer to those questions.
I did.
If you speak to my wife she will tell you that I have a terrible memory, and she would be right. I can't remember what I wrote a paragraph ago. So how do I remember the names of Jean Montury and Valentin Messina?
It's all down to the skill and artistry of Neil Stoddart.
Neil is the photographer for PokerStars. I never built up a strong relationship with Neil during my brief time on the EPT, where I worked for PokerNews. They are a tight knit team, who has worked together for many years. That closeness can make you feel like an outsider. You have to earn your badge. I wasn't around long enough to do that.
What I admired about Neil was the time he spent on the tournament floor. Throughout my early days in the poker industry I didn't have a very high opinion of photographers. Looking back now I didn't understand the art, and just bemoaned the lack of work ethic.
Too many of them would go out and take a shot, then spend the next few hours on their computer.
"There's a tournament going on out there." I would be screaming inside my mind.
I didn't used to think the story was being portrayed correctly if the photograph came from a different set of eyes from the writer. I liked my photographer to be right by my side, capturing the moment that I would be trying to pour life into minutes later. I even suggested that the live reporter should also double as the cameraman. I was wrong.
When the Global Poker Index (GPI) announced their plans to include the category of Poker Media Content of the Year, at the 2014 American Poker Awards (APA) I was delighted. Here was a time for the men and women hiding in the shadows to have their art recognized by the community. In the main the nominations were excellent. The only one that didn't belong was PokerNews Live Reporting at the WSOP. It was too generic. It was great to see Brad Willis win for a single written piece of work.
After Brad won, hope started to enter my mind, that perhaps something I had written could win the European Poker Award (EPA) for the same category? I started to think of all the articles, and interviews, that I had done in 2014 – all the feedback, and pats on the back.
I was also fortunate enough to receive a vote. When it was my turn to act I realized how hard it was. I couldn't think of a single piece of poker media content that had stuck in my mind. Not one single piece. In the end I also went down the generic route voting for the photographs of Alin Ivanov, the video work of Mantvydas Plynius, and the sideline reporting work of Remko Rinkema.
When the eventual nominations were revealed I was disappointed with the final four. It didn't feel like the category was doing its job, and I was partly responsible for that malaise. EPT Live Commentary, Neil Stoddart Photography, and Remko Rinkema Videography – it was all too generic. It seemed too lazy. Fortunately, the only nomination that belonged in the category, actually won the award: Victor Saumont for his documentary Nosebleed.
So how are we going to change this in the future? How are we going to remember the individual pieces of art that touch us so briefly before fluttering off again like a dandelion in the wind?
We remember them by writing about them, talking about them, and celebrating them.
I remember the final two players in the EPT Malta Main Event because Neil Stoddart captured a piece of emotion that will stick in my memory all the way through to the EPA Poker Media Content award nominations of 2015.
The simplicity, the humanness, and the vulnerability – it's breathtaking.
The same is true of Brad Willis's piece that won the APA. Once again vulnerability and humanness was at the heart of what he wrote. It was 100% pure emotion. He made us feel something. That's what great art does.
It's not just the voyeurs who get to feel great either. Compare the state of mind that Willis was in when he wrote that piece, compared to a standard bit of copy about the next PokerStars Spin & Go millionaire. Imagine, how Stoddart felt when he uploaded the 40-photographs he took in that one visit to the set and found that gem.
Sometimes writing isn't fun. At times taking photographs is boring. But what I have learned from reading about the likes of Walter Russell – a quite outstanding human being who seemed to be able to master anything that he set his mind to – is the key to success is to find joy in everything you do.
If you can stir up that joy and happiness every time you sit down to write, or take a shot, then I believe the universe will send everything else your way. Vulnerability and emotion will find you. That's what it does. It wants to be found.
Neil Stoddart found it. Alex Dreyfus understands it. That's why the Poker Content of the Year category was created. It was to celebrate moments of individual mastery. Now, let's not be too hasty to forget it.
Comments