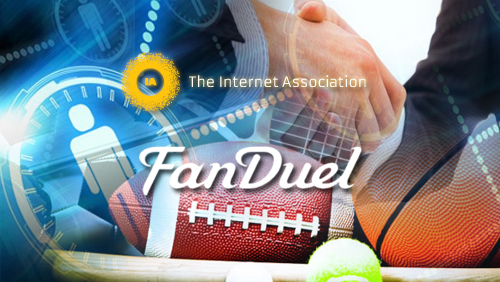 Daily fantasy sports site FanDuel has signed up to become a part of the Internet Association, a trade group currently inhabited by technology firms like Google, Facebook, and Twitter.
FanDuel CEO Nigel Eccles commented on the company's inclusion into the Internet Association, saying that it was an important step for the company to be recognized in the same league as its new contemporaries. Eccles added that being part of the Internet Association gives FanDuel the platform to "participate and engage on important policy issues affecting Internet companies."
The Internet Association President Michael Beckerman welcomed FanDuel and referred daily fantasy sports site as a "great asset" that can help push the group's mission of advocating for "pro-Internet policies that foster economic growth and empower users."
In other daily fantasy sports news, 83-year old Barry Mindes, the brains behind the world's first live-game sports betting system used in Las Vegas casinos has put together a new technology that would allow live in-game offerings for the daily fantasy sports community.
Speaking with Gambling911.com, Mindes has introduced the Phantasmagoria Sports System, which he hopes to patent sometime next month. Details behind the specific capabilities of the system are still being kept in secret, although Mindes did say that it could be in place by the start of the 2016 football season.
For now, the proprietary technology is still in its testing phase but Mindes did say that once the Phantasmagoria Sports System is up and running, he would classify it as a "white-label" product, giving him the opportunity to sell or his lease the rights of the system to any daily fantasy sports operator interested in giving it a go.
Mindes' stature in the sports betting community is unquestioned after creating SportsXacton, which made its debut at the Excalibur casino in Las Vegas in the mid-90's. At that time, the system was ground-breaking and tantamount to a game-changer in the business because of its ability to allow bettors to place bets on sporting events, specifically baseball, as they were happening.
Now, Mindes is on the verge of doing to the daily fantasy sports industry what he did for sports betting some 20 years ago, proving that while technology continues to evolve, the brains behind this evolution remain the same.
Comments