iGaming North America is coming up quickly and I think its safe to say the only people who know the session details better than I do are the conference organizers themselves.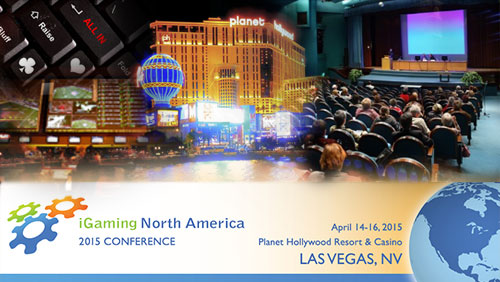 My role at iGaming North America requires a deep knowledge of the sessions on offer, the topics to be discussed within those sessions and a familiarity with those who will be presenting them.  After spending many hours with the agenda and speaker details, I would like to share my top five sessions to attend for those who can make itnext week and for those who can't make it, keep your eyes peeled for my daily reports from the event.
Before getting started, I would like to commend team iGaming North America for putting together a fantastic agenda that includes a nice mix of hard-core sessions, juicy panels, Q&A, creativity and fun.  As discussed in my interview with Sue Schneider, after familiarizing yourself with the session content, you can tell the creators of this event are experienced industry professionals.
1)2015Visionaries Panel: Reality Check – The State of the Industry
What I find most impressive about this panel is the calibre of senior executivesthat will be sitting on it.
Everyone likes to hear from David Baazov, one of the industry's greatest influencers and icons after hisPokerstars acquisition, Brian Mattingly whose company has much influence over the regulated US iGaming Market, Gavin Isaacs of Sci-Games with all sorts of new deals announced recently around the world and Renato Ascoll of GTECH (now IGT) with the recent merge making the combined and now IGT-branded company a powerhouse in the American market.
Regardless of what topics are discussed during this session, their opinionsare important.  Stay tuned for updates from CalvinAyre.com on the panel discussion.
When:Tuesday, April 14, 13:15-14:00
Moderator: Sue Schneider- eGaming Brokerage
Panelists:Gavin Isaacs- Scientific Games
Brian Mattingly- 888 Holdings
David Baazov- Amaya
Renato Ascoll- GTECH (now IGT)
2)Payment Processing Panel
Anyone operating in the regulated US iGaming market is aware of the pain point that is payment processing.  Despite the fact various forms of iGaming are legal in Nevada, New Jersey and Delaware, legitimate customers and operators are still having trouble with the banks.
This panel features a solid moderator and three panellists who will be able to shed some light on the payment issues we're encountering today and hopefully let us know when we'll be seeing some improvement.
When: Tuesday, April 14, 15:00-16:00
Moderator: Matthew Katz- CAMS
Panellists: Jenna Goodfellow- Mastercard
Ted TeruoKitada- Wells Fargo Bank
Laura Kane- PayPal
3)KeynoteSpeaker: Joel Comm
Joel Comm has 81,100+ followers on Twitter and 18,800+ Tweets so he must be doing something right.
Comm is a keynote speaker coming to us from outside the gaming industry with years of insight into internet marketing, 12 books under his belt including one about Google and one about Twitter, hosting reality TV show "The Next Internet Millionaire" and professionally speaking around the world.
In this iGaming North America keynote speech, Comm will provide us with his unique perspective of the online gambling landscape.
When: Wednesday, April 15, 11:00-11:30
Speaker: Joel Comm- Joel CommInc
4)Bringing the Fun Back to Online Poker
The "gamification" of online poker has been a hotly debated topic as of late, alongside the good old recreational poker model argument.
Mason Malmuth and David Sklansky of 2+2, the largest and most influential poker forum in existence, are both iconic poker writers, talented players and have been around the industry for many, many years.  Hearing their perspective on the state of online poker, especially in America, is a unique opportunity and should not be missed.
When: Wednesday, April 15, 14:30-15:30
Moderator: Rich Muny- Poker Players Alliance (PPA)
Panellists: David Sklansky- Two Plus Two Publishing
Mason Malmuth, Two Plus Two Publishing & Two Plus Two Interactive
5)Remarks from US Senator John McCain on Sportsbetting
While these remarks from Senator McCain will have been pre-recorded and played back to us at the event, they are unique to iGaming North America and will address where he sees sportsbetting in America moving in the future.
McCain may be against online betting, but he is for a debate in Congress over offering legal sportsbetting in states other than just Nevada.
When: Thursday, April 16, 15:00-15:05
Speaker: Arizona Senator John McCain
Honorable Mention- Mock Trial: United States v. Ginger McKenna
This year we will see the return of the "Mock Trial" at iGaming North America, but even more importantly, the return of Nicole Kardell who played the part of "Ginger McKenna" last year as well.
The trial will serve as a light-hearted way to educate delegates on some of the complex issues surrounding online sportsbetting in the United States, complete with a randomly selected jury.
When: Wednesday, April 15, 9:00-10:15
Reporter: David Purdum
Ginger McKenna: Nicole Kardell
Judge: Mark Balestra
Prosecution: David Deitch
Defence: Jeff Ifrah