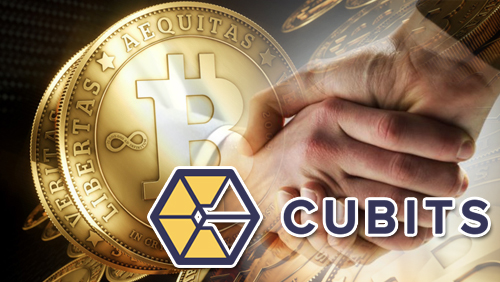 European Bitcoin Marketplace Cubits Announces Partnership With Betconstruct
Cubits has been steadily making a name for itself as Europe's fastest growing marketplace to buy, store, send and receive Bitcoin. Now, with a past deal with  and a recent announcement regarding a partnership with Betconstruct, Cubits is also on the way to becoming the industry-standard Bitcoin platform for the European and international iGaming industry. With its simple and elegant user interface, its secure cold storage wallet system, and its near-instantaneous processing of Bitcoin orders, Cubits is ideal for online casinos to offer Bitcoin deposit and pay out functions for their customers.
Betconstruct is one of the world's largest software providers for gaming businesses, specializing in live sportsbook betting and other casino games, and currently powering more than 70 gaming partners on a global scale. Betconstruct has the unique feature of offering their entire online casino platforms and software solutions for purchase directly within their website. Now, with their partnership with Cubits, Betconstruct is making it possible to use Bitcoin for these direct buy options, making their modular drag-and-drop virtual environment easier and faster to use.
For customers who want to use Bitcoin to top up their balance at a fiat casino, Cubits offers the possibility for BTC payments alongside EUR ones. Via its conversion service, Cubits gives the customer instant access to virtually any casino. With Cubits, customers now also have the option to get a pay out in Bitcoin, regardless of what currency was used to play. Cubits co-founder and CEO Tim Rehder says "we're excited to be the first and only Bitcoin Marketplace that gives the public the power to use this revolutionary new form of currency, to give them access to games previously barred to them, and most uniquely, to offer a Bitcoin pay out option even within fiat-based games." Having Bitcoin pay out is something no other casino, nor Bitcoin Marketplace, currently offers, and Rehder is confident that the Cubits pay out function will be a game changer in the iGaming industry.
Only eight weeks have passed since Cubits began partnering with established players in the iGaming industry. Nonetheless, Cubits is already making a major impact on the way Bitcoin is being integrated into the online gaming environment. After the announcement of the recent deals with Betconstruct and SoftSwiss, Cubits' professional services, tailored to iGaming, are surely on their way to becoming the industry benchmark.
Contact Cubits at [email protected]