This is a guest contribution by Focus Online Management Ltd. owner Phil Fraser. If you would like to submit a contribution please contact Bill Beatty for submission details. Thank you.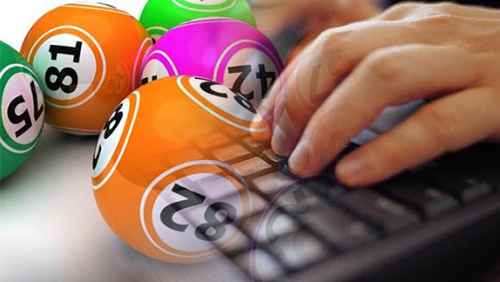 2014 was a year of huge legislative change for the whole of the online gaming industry, with the long-anticipated introduction of Point of Consumption tax on December 1st, as well as changes to UK remote gaming licensing laws.
Many industry commentators predicted that these legislative changes would lead to a change in the online bingo landscape, with many of the smaller brands struggling to remain profitable.
Phil Fraser, owner of the leading UK bingo portal www.whichbingo.co.uk, gives his take on what happened in the online bingo market in 2014 and what he predicts will happen next in 2015.
Making hay while the sun shines
Despite the impending Point of Consumption tax on the horizon, 2014 was a record breaking year for new bingo site launches, with over 77 new sites entering the market. This figure however was skewed slightly by Bauer Media launching 20 virtually duplicate sites under their magazine and radio brands. These 77 new sites dwarf the 2013 total, and, as can be seen from the graph below, is the largest ever number of new site launches in the UK market.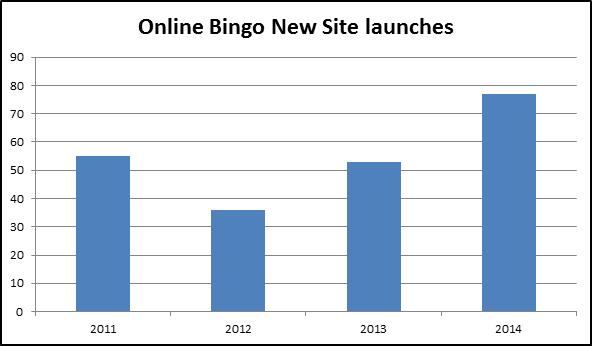 (Source  www.whichbingo.co.uk)
Such was the frequency at which new brands were being launched during the first three quarters of 2014, the assumption was that operators were looking to push out their new brands as quickly as possible before the introduction of POC hit; a mass bingo 'landgrab' in order to gain as much profit as possible, before the impending doomsday. However, even post-POC, we have already seen a continued steady stream of new brands going live (and we are aware of many more in the pipeline), so POC and the legislative changes clearly aren't having much of an effect in slowing new site openings.
Within this frenzy of launch activity there were some very discernible trends; If you look at the launches by software provider, more than 80% of the new site launches came from three software providers (Virtue Fusion – 23, Cozy Games – 22 and Dragonfish – 18). This shows that despite the increase in brands, the product choice offered to online bingo players remains restricted.
In addition, four bingo operators – Live Bingo Network (LBN), Ignite (formerly Mandalay Holdings), Bauer and 8 Ball Games – were responsible for around 70% of the new site launches in 2014. Consolidation is definitely an active phenomenon in the online bingo market.
Closures, mergers and acquisitions
Alongside the slew on site openings, 2014 also saw plenty of movement in the ownership of bingo brands, with a multitude of sites changing ownership through either mergers or sales to rival networks alongside several sites shutting down completely.
The largest site movement came back in April when two of the biggest networks on the Cozy Games platform, LBN and Winners Bingo Network, merged to create one giant network of 27 sites. With new brand additions since then and more to come, this number is expected to go past the 50 mark in early 2015.
The most high profile change of ownership came in September when UK plc Gaming Realms, owners of Bingo Godz, picked up four sites as part of the £10m purchase of Blueburra Holdings.
The most acquisitive operator in 2014 was Cheshire-based 8 Ball Games who have been taking advantage of the changing online bingo landscape by snapping up small, underdeveloped or closed brands and then re-launching them on their own network, with new designs and improved CRM. The company now own and operate upwards of 40 different bingo brands. This figure is approximately 10% of all the sites listed in the WhichBingo directory, which in 2014 pushed past the 400 mark for the very first time.
Of the range of online bingo sites that closed down in 2014, the most unusual was the case of Gramble Bingo which opened in August and then quickly ceased trading, transferring all players to Gone Bingo in a matter of weeks.
The closure that received the most exposure was that of Yahoo's bingo game but this was already expected, and part of a wider cull of all of their online gaming products. Cashcade seemed to be doing some 'tidying up' by closing down a number of its smaller, low profile sites. Perhaps this may be a pre-cursor to a sale, amongst the rumours of a Bwin.Party break up. The rest of the closures came via Cozy Games and Gtech seemingly closing down smaller, non-profitable sites. In total, we saw at least 20 brands go offline, although don't be surprised if some make a return in 2015.
Predictions for 2015
Despite the widely held view that Point of Consumption tax would lead to dozens of bingo site closures, at the time of writing it seems that, post-POC, 2015 will not see a significant slow down the influx of new bingo brands to the market.
Online bingo players seemingly have an almost insatiable desire for new bingo sites, and while that demand is there we will continue to see owners and network operators such as 8 Ball Games, Dragonfish, LBN and the like continue to develop new bingo brands to meet that demand, even if there isn't much differentiation other than the name and design of each website.
As for the major brands it remains to be seen what effect the point of consumption tax will bring. In a recent interview the management team at Sun Bingo told WhichBingo that their response to the tax increase was very much focused on how it would make things much harder for the smaller operators. They believe we're about to enter a period of consolidation over the next couple of years.
There is also the on-going debate as to whether, as predicted, the ASA will be introducing changes in how and when gambling operators are allowed to advertise to the public. This could be a major development in 2015, particularly if TV advertising is restricted in any way.
Overall in 2015 we expect to see a continued increase in the number of bingo sites available, but an overall reduction in the amount of companies who own these brands. The days of an independent company, new to online bingo, newly entering the market and launching a standalone bingo offering is seemingly long gone. M&A activity will also continue unabated.
Marketing will be a key battleground for all of the major players, so it will be interesting to see what direction this takes in 2015, especially if the ASA or government (in an election year – gambling is an easy target) decide to change anything. As always product differentiation, product development and player retention will also be key in the online bingo battle for hearts and minds (and purses).
Phil Fraser has been involved in the online bingo industry since its very early days of 2000. He has long been recognised as a leading expert in the online bingo market has spoken at many online gaming conferences around the world as well as appearing on BBC radio. He is a respected commentator on online bingo, with many articles appearing in both print and digital media. Phil also chairs the annual 'Online Bingo Summit'.
Phil owns Focus Online Management Ltd, the company behind the multi award-winning WhichBingo UK, the UK's largest Bingo Directory and FreeBingo UK, the UK's largest (and first) totally free to play bingo game.
Focus Online Management also runs the online bingo industry premier awards, the WhichBingo awards, the ceremony for which take place every May in London.
email: pfraser@focusonlinemanagement.com
cell: 07960  490416 (0044 7960 490416 outside UK)
telephone: 0113 393 0500 (0044 113 393 0500)
Follow me at:
www.twitter.com/@mr_online_bingo
Comments