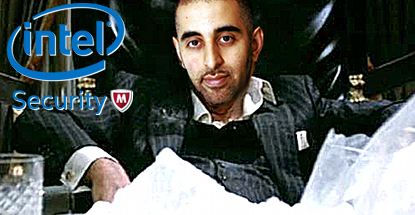 Online gambling is an "extremely easy" method of money laundering, according to an online security researcher. Intel Security Europe CTO Raj Samani (pictured) told the recent NED (Cyber Network Exploitation and Defense) Forum summit in London that criminals were making good use of online gambling sites in regulated markets as well as grey- and black-markets.
"There is no visibility for law enforcement officers of money transfers that happen between players within the gambling site and no documentation is required to register for these services," said Samani, who singled out Bitcoin-friendly sites as particularly prone to this chicanery.
To which we say, bullshit. Studies have shown that online poker – the only form of online gambling beyond exchange wagering outfits like Betfair in which players have an opportunity to win each other's money rather than the house's – is an extremely daft and inefficient method for money laundering. A study of the German gambling market concluded that even if the entire country's online poker players engaged in money laundering 24/7, their combined effort would still only represent 3.2% of all criminal activity in Germany.
But we get it. Intel is selling security, so they have a vested interest in painting the online world as a scary netherworld of evildoers and villainy. Sen. Lindsey Graham used the recent confirmation hearing of the new US Attorney General to trot out the tired old chestnut about ISIS and Al Qaeda funding their plots via online poker. Much like the Dick Cheney's of the world attempted to convince us that anyone with an Aladdin DVD in their collection is a potential jihadi, Intel has come to protect you from the digital ghosts under your bed.
Or maybe Intel is nervously practicing some misdirection in order to keep people from learning their terrible secret. See, until early last year, Intel Security was known as McAfee Associates, which was founded by one John McAfee. Shortly before the name change, McAfee the man was accused of unlicensed drug manufacturing, possession of unlicensed weapons and was named a person of interest in a murder investigation in Belize.
Clearly, using the sharp-witted powers of deduction employed above, the only logical conclusion to draw is that Intel Security is a clever front for an international drug trafficking and murder-for-hire ring. Could we be wrong? Sure. And we'll admit our error when Samani does likewise.