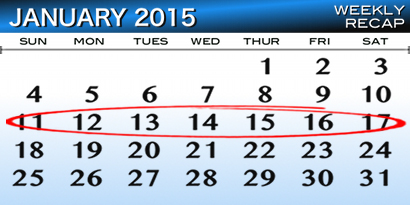 THE AMERICAS
Caesars Entertainment finally bit the bullet and filed for bankruptcy despite a last minute intervention by angry junior creditors; Amaya Gaming said it was considering ditching its entire B2B business; New Jersey's regulated online gambling market showed signs of life in December; Atlantic City revenue fell for the eighth straight year while Pennsylvania fell two years in a row; Penn National Gaming hired Betfred alum Chris Sheffield to steer its new online gambling course; California's probe into alleged skimming at Casino M8trix worried online poker backers; New York's gaming regulators reopened the tender for a Southern Tier casino; a Montreal police sergeant was accused of illegal bookmaking; New Jersey said daily fantasy sports was a greater threat to integrity than sports betting; Washington and Mississippi got new online gambling bills; the American Gaming Association welcomed increased federal scrutiny of Nevada sportsbooks while the sportsbooks lobbied for the right to offer Olympic wagers and CanAffco.com's Gian Perroni discussed Break Out Gaming's virtual currency plans.
EUROPE & AFRICA
PokerStars said its new sportsbook would launch before the end of Q1, allowed a glimpse at its data security practices and handed a Russian player $1m via Stars' Spin & Go; the Czech Republic said it would impose a point of consumption tax on international online operators; South Africa's gov't said online gambling must remain a banned activity; Belgium banned operators from using live dealer studios based outside the country; GVC Holdings reported its sixth consecutive quarter of growth; Bwin.party shut down its social betting app while it negotiates a sale; Ladbrokes launched a new affiliate website and Laurent Malka told affiliates how to simplify traffic management; 13 operators expressed interest in a Cyprus casino license; Merkur Gaming appointed a new CEO; the UK's point of consumption tax caused William Hill to scrap a race sponsorship and SBOBet's Bill Mummery explained why the company walked away from the UK market.
ASIA
High-rollers' share of Macau's 2014 gaming revenue hit new lows and the David Group junket drastically downsized but good things are forecast for 2016 thanks to China's growing mass market; Stanley Ho's nephew was accused of running a major prostitution ring out of a Macau hotel; Melco Crown Entertainment unveiled its new Martin Scorsese commercials starring Leo Dicaprio and Robert De Niro; Thai police were accused of extorting money from a ring of South Korean online bookmakers; South Korea approved casino cruises; Koh Puis Investment Group pimped a new Cambodian casino project; Rafi Farber approved of Genting's investments in the Philippines and Betcoin Tech's Oron Barber and Ellon Arad discussed Bitcoin's potential in Asia.
Comments