Sparked by Shane Warne's departure from 888Poker, Lee Davy continues his confessions series with a little ditty about his brushes with celebrity stardom during his time in the poker circus.
Did you know there is a disorder known as Celebrity Worship Syndrome? It's a bone fide disorder that affects people that become obsessed with the details of a celebrity's personal life.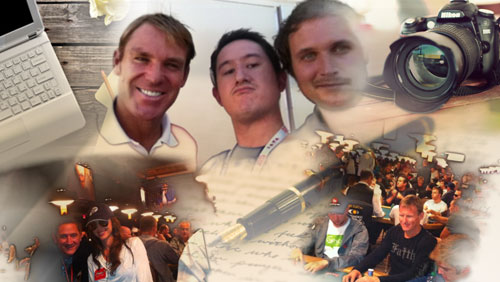 I have always been very anti-celebrity. I remember once being sat opposite the former Wales, Liverpool and everybody else striker, Dean Saunders, on a train ride home from Manchester. I texted my mate to tell him and he asked me to get his autograph. There was no bloody way I was going to ask him for his autograph. Although I did share my bag of crisps with him.
Then there was the time I was standing in the urinal next to the former Welsh footballer Barry Horne. I remember telling everyone that I got to see Barry's Horne. I mean, come on. You've got to have a little look haven't you? Although that wasn't the case when I found  myself peeing next to the New Zealand winger Jonah Lomu, in a Swansea nightclub. I thought the size of it would create psychological scars from which I would never recover.
In all seriousness I think my celebrity phobia is based around my little man syndrome. I hate it when there is a hierarchy. I have no time for authority. I guess I view celebrity in this way. Either they believe they are a superior class, or I believe they believe they are a superior class. Either way, it bugs the shit out of me. I don't know why I let it bother me. Most celebrities I have met all seem very nice and down to earth.
But I still get star-struck on occasion and poker has been fortunate to me on more than one occasion in this regard. One of the greatest things I love about poker is it breaks down social and cultural barriers. You can sit down next to Don Cheadle and shoot the shit whilst playing cards. There are no burly minders, no distance, no rules around what you can say and what you can't.
Think about it.
You can sit next to the likes of Gerard Pique, Don Cheadle, Shane Warne, Shannon Elizabeth and Matt Damon when playing poker, and wouldn't get within a country mile of them under normal circumstances..
After joining the poker circus, the first drips of stardust fell onto my face when I started working for partypoker. The first time I met Jesse May I remember thinking: 'Wow!' I got into poker through TV and May was my favorite commentator. To get to know him, and eventually call him my friend, is a great honor. It was also great to find out that he is as bat shit crazy in real life, as he is when doing his job.
Then there was Mike Sexton, Vince Van Patten and Kara Scott. I met all three of them working at Venice for the World Poker Tour (WPT). They had their own transport, and I felt this immediate sense of unimportance when I was around them. Then I met them and realized that, as usual, I was making up my own stories. Wonderful people, all three of them, although Mike still doesn't know who the hell I am after working with him for the past five years. I keep calling him Vince. Not because he looks like his fellow co-commentator, but because he reminds be of the WWE chief Vince McMahon.
The day I was followed on Twitter by the UK snooker legend Steve Davis was mighty fine. It puffed up my ego no end. I reached out to him for an interview, and told him that I could possibly swing it for him to get a few buy-ins on the World Poker Tour. He said he would think about it. I remember how excited I was when I approached my boss Neil to tell him that I had secured Steve Davis as a player on the tour.
"I was playing golf with him just last week." Said Neil, "I know him well."
The ego was back to its usual size after that little confab.
The World Series of Poker (WSOP) is the best place to see celebrities. Unfortunately, as a Brit, I don't know who half of them are. Singers, Ice Hockey Players, Basketball Stars, and American Football Quarterbacks? Seriously, I don't know any of them.
I do remember meeting Shane Warne at the Rio. I was rooting out back, trying to find a suitable place to interview Tobias Reinkemeier when we found a sandal wedged in the back door. We went through and there was this kid sitting on a chair taking in some rays. I recognized him as a partypoker qualifier.
"Alright, Pete?" I asked.
"Pete? It's not Pete. It's Shane." Came the reply in this deep Aussie accent.
I quickly realized that it was Shane Warne and after apologizing for not recognizing him, I managed to sneak in a three-way selfie between Warnie, Toby and I.
The two other times that I was slightly star-struck at the WSOP involved Teddy Sheringham and Shannon Elizabeth. I took photographs with both, and my wife still winds me up today because I applied a little love halo over my Shannon photo when I later touched it up. Little does she know that it was Teddy that got me hard, not little Miss American Pie.
But the only time that I was truly shitting myself over a meeting with a celebrity was the time I got to interview Bryan Robson. I grew up as a Man Utd nut, and Robson was my favorite player.
Partypoker had invited me to attend their Road to Old Trafford Poker Tournament. I was asked, before hand, to write a few questions that they could send to Bryan Robson. I didn't put much thought into it to be honest. The usual stock bullshit questions came out regarding the similarities between poker and football and I never gave it a second thought.
I did well in the tournament and built up an impressive stack. During the play a women approached me and asked if I was Lee Davy. Bryan Robson was ready for my interview. Bryan fucking Robson!
"But I haven't prepared." I said nervously.
"We have your questions." Said the young lady.
The questions that I had sent to Warren Lush. The ones that I had written whilst taking a dump. I couldn't even remember what they were.
He was sitting on a sofa surrounded by cameras. He looked immaculate in his Man Utd suit. I had first met him when I was 9-years old. They had just opened the Panini Family Stand at Old Trafford and he signed my program. He didn't look a day older. To be fair neither did I. I had a baseball cap on and was dressed like a young thug.
The press officer came onto me.
"Lee…now here are your questions. We have crossed out the ones you can't ask him in red."
I looked down at my 10-questions and 7 had been crossed out. Only three remained and they were very bog standard, run of the mill poker questions.
"I can only ask these three?" I doubled checked.
"That's the plan." Said the press officer.
I sat down next to him and shook his hand.
"Do you play poker?" I asked.
"No." He said.
"Do you know anything about poker?" I asked.
"No." He said.
I looked down at my three questions and drew a line through all three of them.
"Ready in three…two…one…off you go Lee."
Oh shit!
Comments