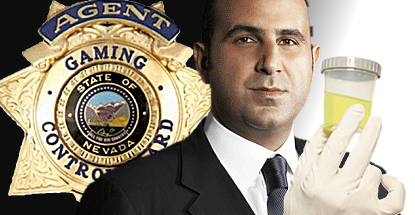 Nevada regulators have approved nightclub impresario Sam Nazarian to hold a limited gaming license. Nazarian, who stepped down as CEO of the SLS Las Vegas casino on Tuesday, needed a favorable nod from the Nevada Gaming Commission in order to maintain his 10% ownership stake in the property.
Following a two-hour hearing on Thursday, the Commission unanimously approved Nazarian's license, although they imposed a number of conditions, including drug testing – urine and hair – every three months, for which Nazarian must pay $50k. The license is valid for just one year and Nazarian can't have anything to do with gaming operations.
Two weeks ago, Nazarian appeared before the Nevada Gaming Control Board, which spent a couple hours probing his colorful past. Of particular interest was Nazarian's cocaine use while his license application was being processed. Nazarian had originally denied using drugs only to fail a subsequent drug test. On Thursday, Nazarian apologized to the Commission for being less than forthcoming about his drug use and said he'd enlisted the help of a doctor to help him deal with any lingering substance abuse issues.
The subject then turned to Nazarian's dealings with Derrick Armstrong, a convicted felon to whom Nazarian paid nearly $3m over the years for still somewhat murky reasons. Nazarian told the commissioners that he now had a restraining order out on Armstrong and that this extortion will never happen again. Commissioner Randolph Townsend told Nazarian that if he couldn't package his action-packed story into a movie deal, "then you have the wrong attorneys."
As if on cue, a plot twist straight out of Hollywood emerged. Midway through the hearing, news broke that Armstrong had been arrested on outstanding warrants for suspicion of grand theft and writing bad checks. He'd apparently intended to attend Nazarian's hearing but was detained by local law enforcement before he could enter the building. Perhaps he'll come back for the sequel when Nazarian's license expires in one year's time.
Comments