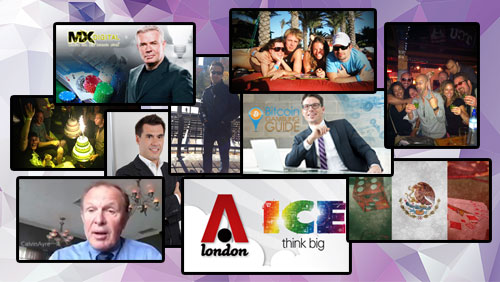 Every Thursday I publish my column, Becky's Affiliated, an opportunity for me to interview, highlight and share my thoughts on hot industry issues.  Now that we've hit Christmas 2014, I'd like to take the opportunity to reflect
back on my favorite column posts of the year and share them with you.  I hope my list brings back some good memories and I wish you a Merry Christmas and Happy New Year!
Top 10 Becky's Affiliated Columns of 2014
10- How to plan your conference week for ICE and LAC
The celebration of Christmas always means the week of conference debauchery in London is coming up in one month's time.  ICE 2015 represents the ninth ICE event I've attended and I've been to LAC since its inception, so I do believe this makes me somewhat of a groupie.  I figured why not harness this experience and share my ICE and LAC planning advice with the masses.
9-The secrets of top affiliate management, featuring Adnan Maslo
There are so many affiliate managers working within the online gambling industry, yet only a handful stand out as truly outstanding at their job.  The work of a top affiliate manager is not easy and requires a diverse skill set, the ability to work long hours, the energy to keep up with affiliates at conferences and a lot of patience.  Someone who consistency stands out as one of the industry's best is Adnan Maslo of Affiliate REPUBLIK and he agreed to share his secrets in this post.
8-Five surprising facts about the Mexican iGaming market
Emerging markets are always fun topics to dive into, especially seeing as the UK market is saturated and the regulated US market is quite limited at the moment.  Mexico is a particularly interesting emerging market as the opportunity for iGaming is there right now, ready for the taking.  In this post, I picked the brains of four experts on the Mexican iGaming market and discovered the reasons why the iGaming industry should be considering this region now.
7-Costa Rica bred iGaming talent thriving in New Jersey
Old school online gambling professionals should all have a special place in their heart for Costa Rica.  This beautiful country bred some of the best iGaming talent we see floating around our conferences today.  In this Becky's Affiliated, I caught up with Nick Gatt, an iGaming professional who previously held roles in
Malta and Costa Rica and now in New Jersey.  Going from a "Wild West" workplace to a much more corporate one has been a rewarding experience for Gatt, yet he recognizes the vast amount of knowledge he obtained by working in Costa Rica.
6-Interview with Senator Ray Lesniak
When the news of Chris Christie's sudden 180 on allowing sports betting in the state of New Jersey came out, Senator Ray Lesniak was happy to provide CalvinAyre.com with a Skype interview on the subject.  Even though things are not yet settled in New Jersey as Leniak hoped and predicted, we appreciate the hard work of the Senator and his dedication to the welfare of the Garden State and the people who reside within it.
5-Costa Rica's role in the online gambling industry today
Over the course of my career I've been to Costa Rica for business at least fifteen times and have a very special place in my heart for the country.  Costa Rica served our industry well throughout the 2000s and was an appropriate hub at the time, but the industry has since moved on.  While Costa Rica may be regarded as a shell of its former self when it comes to the iGaming industry, no one can deny the impact this country and the talent nurtured there continues to have on our businesses today.
4- Why online gambling affiliates should consider Bitcoin gambling
Ah, Bitcoin – one of my favorite subjects.  While the online gambling industry as a whole appears to be interested in the subject of crypto currencies, most operators, suppliers and affiliates have yet to truly jump on the bandwagon.  In this interview with Chris Evans of Bitcoin Gambling Guide, we learn about the opportunities there are today for affiliates and Bitcoin iGaming.  The key here is to get in early and claim your share of the pie before the market becomes saturated and more competitive.
3- What Betting Partners can teach us about VIP treatment
There is nothing better than an expertly executed VIP trip for affiliates and there is no one that does it better than Betting Partners.  While its true organizing a top notch VIP trip requires an enormous amount of work and budget, the returns are great if you do it right.  The Betting Partners VIP trip or "partner summit" to Punta Cana is the perfect case study for any affiliate program that wants to make the most out of their VIP affiliate relationships.
2- How professional sports entertainment & brand expertise led Eric Bischoff to iGaming
Eric Bischoff is one of the biggest names in professional wrestling, having presented to 20K people live from the ring and on TV for several decades.  Bischoff is a serial entrepreneur and prides himself on knowing how to recognize a good brand.  One of his latest ventures, MX Digital, works with big brands such as Dennis Rodman, David Hasselhoff and Hulk Hogan to create bespoke slot games, therefore exposing Bischoff to the online gambling industry.  During my interview with Bischoff, we discuss his background in wrestling, reality TV, beer brewing, branding and how all these experiences led him to iGaming.
1- How to organize a VIP trip affiliates will love
I love this one because its honest advice, written straight from my personal experience.  There is nothing more I enjoy than pointing out a job well done and giving credit where credit is due.  As mentioned ab
Comments