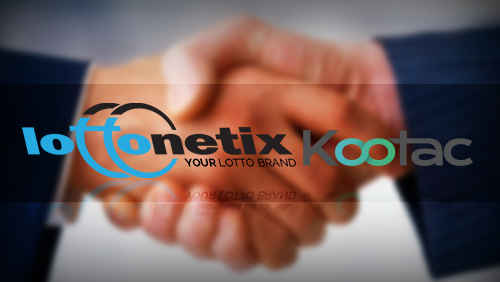 Leading lottery technologists, Kootac and lottery pioneers, Lottonetix, announce their new joint venture to create innovative synergy in the lucrative online lottery market.
The Maltese based gaming software provider setup by leading industry experts, offer companies and brands a simple and cost effective way to enter the exciting world of Online Lottery.
"We've built a strong reputation with over 300k customers served over the last 10 years and with our online platform already in its forth year and third release, the joint venture with Lottonetix will push the cutting edge technology further into new markets." says Marek Mahdal, Managing Director of Kootac, "With their experience in lottery syndicates and their insights into the UK market, Lottonetix is the perfect extension to our already successful position in the market."
The venture puts sales and marketing in the expert hands of Lottonetix, while Kootac continue to focus on the development of the cutting edge platform that enables websites to quickly and easily offer online lottery ticket sales across multiple countries.
With extensive experience in the UK online marketing arena and their last 3 years developing lottery syndicates in the UK market, the team behind Lottonetix have gained themselves a strong reputation due to their deep understanding and impressive results gained there.
"We've seen a huge rise in interest in the online market for lottery ticket sales," says Lottonetix Co-founder, Shai Ben Ami, "and teaming up with Kootac puts us in the unique position of having the most advanced lottery platform with a clearly innovative vision on how we can integrate these technologies for our clients securely, reliably and significantly quicker than any other platform on the market".
Integration of the Kootac / Lottonetix whitelabel product is the shortest in the sector, at a mere 10 days. Add to that their fully featured platform comes with 12 languages built in, full multi-language customer support for clients' players as standard, plus the clients' gaming license provided, their offering certainly puts them in a strong position to excel in the sector.
While offering whitelabel products, the venture also provides bespoke integrations by way of their secure and robust set of API's that allow clients to simply bolt on the platform to their existing products. Another important part of their business lies in the development of their already performing attractive affiliate program.
The joint venture comes perfectly timed to take full advantage of the breaking market of online lottery services, as first quarter results for 2014 puts global online lottery sales at an all time high with impressive growth. No doubt the synergy between the two companies will push the boundaries of online lottery to the next level.
For further info please visit www.lottonetix.com or contact contact [email protected]