The first Future iGaming Conference took place today in London, organized by World Business Research (WBR), a well-established conference organizer within a number of industries. Over the course of the day, roughly one hundred iGaming professionals came to America Square Conference Center and participated in a series of innovation and best practices in marketing panels, interviews and presentations, networking breaks and post conference drinks.
Today's conference sessions focused on innovation in the morning and split into several tracks in the afternoon, one focusing on customer experience and the other on customer acquisition, combining back into one track focused on mobile acquisition at the end of the day.
The atmosphere during the conference today was intimate, interactive and casual.  Delegates remained engaged for the day and were able to strike up useful conversations with ease.  Organizer Susie Beniam was a great host, she made sure her speakers were sorted, delegates felt welcome and proactively asked both parties for feedback throughout the day.
Today's morning session on innovation featured one of our industries greatest innovators, Bernard Marantelli, Founder and CEO of Colossus Bets, a football pool betting b2c and b2b company.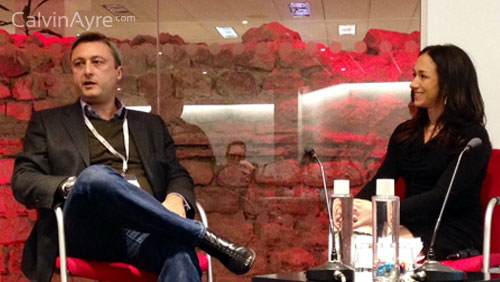 Marantelli spent ten years as a professional gambler with a focus on exchanges and multi-leg bets, an experience that led him to the concept behind Colossus Bets.  At first he tried to get big, established iGaming companies to build the concept themselves, but there are a number of challenges with introducing a new idea into a larger company, especially in convincing stakeholders to take time away from their urgent projects.  After a few conversations with the big boys, Marantelli decided he had hit a brick wall and decided to develop the product himself.
Marantelli explained that while they don't have the massive database and the financial muscle of the big boys, smaller start-up companies are able to innovate with ease in comparison.  In his mind, the best formula is innovating in the smaller tech focused companies and distributing these new products to the bigger ones via acquisitions and b2b deals.
We caught up with Bill Mummery of SBO Bet, a CEO who has decided to stop accepting UK players now that the POCT is in place.  SBO Bet also has a number of sponsorships in the Premiership, mainly to reach Asian punters, but will be putting them all on hold due to new laws in the UK that may or may not require a UK license to hold such partnerships. As it stands, if even one UK player manages to deposit at SBO Bet, the football leagues where the sponsorships are held would be penalized and the risk is too great for all parties involved.
For operators who continue to hold a UK gambling license, the new UK gambling laws are forcing marketing departments to re-think their strategy.  Yoni Sidi, CMO of Winner.com, confirmed his team has had to cut back and do deals where the money comes back quicker- it used to be one year to get the money back, now it needs to be three months.  He explained his team now takes less risks, they are smarter with the deals they make, they make sure landing pages are streamlined and perfect and cross sell as much as possible.
"In essence is a good thing because everyone is working harder – its not all doom & gloom", Sidi said.
Winner has also struck up a partnership with West Ham, a surprising move with the newly implemented POCT.  Sidi explained that they were able to close a good deal and they found partners who are flexible and able to meet Winner's needs. West Ham has given Winner access to much of their database, social media access and they treat Winner VIPs as their own VIPs.
"They have given us our money back after three months.  In short, find a decent partner who will be flexible", he said.
With the POCT in place, Sidi explained Winner is much more focused on Casino these days purely due to the revenue generated from the casino channel.  In his eyes, poker is a dying market and bingo is saturated, but Winner can advertise their bingo product on daytime TV.  Winner's strategy now is to bring in players via sports and bingo, then cross them over to casino.
The subject of UK market saturation was brought up a number of times today and Nick Mounteer of Sportech said the key to standing out is social engagement and content distribution.  He advised operators to first discover their audience, next develop content based on that audience or an event and then find a way to distribute the content.  Russel Yershon of TitanBet agreed and shared details on Titan's "Best job in the world" World Cup promo that proved to be a big branding, retention and acquisition success via Facebook, Twitter and YouTube.
"You have to find your niche", he said.
Comments