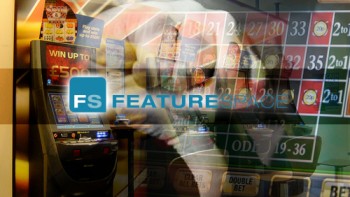 Independent analysis of 7 billion bets brings new insight into problem gambling behaviour – and how it can be predicted to reduce gambling related harm
Featurespace, experts in behavioural analytics, have conducted the research on behalf of the Responsible Gambling Trust
Team lead hails opportunity to make a step-change in protecting those vulnerable to addiction
Limiting the size of stakes on Fixed Odds Betting Terminals (FOBTs) is not the way to deal with problem gambling issues, according to the research team behind the most in-depth analysis of the issue yet conducted. Featurespace, the Cambridge-based technology firm commissioned by the Responsible Gambling Trust to conduct the most thorough investigation into problem gambling yet undertaken, has today published the results of a study of almost seven billion interactions between gambling customers and category B2 gaming machines (commonly known as FOBTs).
Their report, 'Predicting Problem Gambling,' shatters a number of myths around the issue, and lays out methodology which can be used to identify problem gambling behaviours and significantly reduce their prevalence in the coming years. The research was led by David Excell, who founded Featurespace in 2005 to use Adaptive Behavioural Analytics to solve everyday problems by predicting human responses to situations before they occur. His analysis brings unprecedented insight into problematic player behaviour, and means that it is now possible to predict when and how individual players are likely to be at risk of gambling harm.  As a result, it makes it possible to intervene to prevent them from doing so.
Mr. Excell said,
"There have been many fascinating insights that have come from this, the most detailed analysis of how gamblers behave that has ever been undertaken. What we have learned, and the model we have developed, should allow step-changes to be made in protecting those vulnerable to addiction from machines. By using technology to learn the behaviours associated with gambling harm, we can meaningfully impact a social challenge by predicting which players are at risk. 
For me, the leading take-away from the study is this: no single metric can be used to address problem gambling, which results from a combination of factors. There are interventions that will divert people from becoming problem gamblers, but each must be evaluated and tested for effectiveness according to the behaviour of the individual. In other words, the £2 stake limit often seen as the silver bullet is ineffective."
ENDS
Mr. Excell is available to speak to the media on this topic today. For more information, contact: Amelia Caron, 01223 345 940/07718 670 924, [email protected]
NOTES TO EDITORS
"Predicting Problem Gambling" is one of several pieces of research being published today by the Responsible Gambling Trust. Featurespace led the analysis in a consortium of researchers, including NatCen, RTI, and Geofutures.
The full programme of research has been published by the Responsible Gambling Trust and is available http://www.responsiblegamblingtrust.org.uk/
Featurespace is a UK technology company pioneering the next level of data analysis:  Adaptive Behavioural Analytics. We combine the very latest research in statistics and data analysis with a unique method of modelling human behaviour. Featurespace's core ARICTM technology is a revolutionary approach to accurately predicting what individuals and dynamic groups of people will do, in real time. Featurespace has deployed a series of award-winning products for fraud and risk management, as well as customer insight and retention, and is recognised as an industry authority on responsible gambling and player protection.
To find out more, visit http://www.featurespace.co.uk/
Comments