"Having the first dedicated Bitcoin for iGaming conference really highlights how critical and important this new marketplace is going to be for all iGaming operators".- Eric Benz, GoCoin
"Bitcoin has always been used for some form of gaming, now there's a new breed of casino operators who have realised the potential of Bitcoin as an internet payment mechanism and they are capitalising on the technology".- Michael Caselli, iGaming Business
"The bitcoin block chain is a much more powerful regulator than the government can ever be".- Charlie Shrem, Payza.com
The first official Bitcoin and online gambling industry conference took place today in London at the Dexter House, Bitcoin4iGaming.com.  Over the course of the day, approximately 150 iGaming operators, Regulators, Bitcoin professionals and enthusiasts enjoyed a series of sessions, networking breaks and finished up with networking drinks.  Sessions spanned topics such as the advantage of Bitcoin in iGaming, the regulation of Bitcoin, the future of crytpo-currencies, Bitcoin in other industries, Bitcoin disasters, Altcoins and more.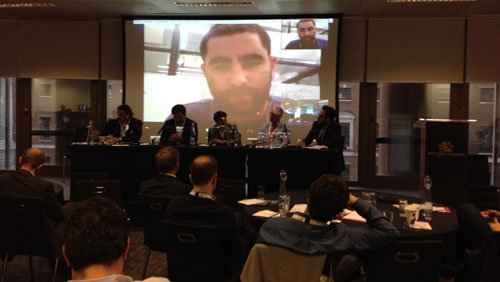 Today's speakers were carefully chosen by iGaming Business's Michael Caselli who worked closely with Eric Benz of GoCoin to be sure the program was as robust as possible.  "The quality of speakers and the content that was presented today has really showcased just how powerful the technology truly is as opposed to focusing the actual value of the currency", Benz told CalvinAyre.com.
As a side note of interest, several key speakers were unable to make trip to London so they were Skyped in to participate, a method that works well for these smaller niche iGaming conferences.
As usual, the energy surrounding a Bitcoin event was positive and buzzing- the discussion around a disruptive technology led by some of the world's brightest and most innovative entrepreneurs is always a stimulating environment.
It was interesting to learn a number of iGaming delegates were not in attendance because they are currently involved with Bitcoin (nor do they plan to be in the near future), but simply because they wanted to learn more about it.  Its clear iGaming professionals as a whole need (and want) further education on Bitcoin and block chain technology and events like Bitcoin4Gaming.com are exactly what we need to spread the word.
Jon Matonis of the Bitcoin Foundation opened up the sessions this morning, setting the stage for the topics to be covered throughout the day.  As we already know, Matonis views "Bitcoin in/Bitcoin out" as the biggest opportunity for online gambling operators and the decisions to iron out are how much to allocate between hot and cold wallet and how much of the profits to leave on the balance sheet as Bitcoin.  He also mentioned a big opportunity for iGaming service providers such as Playtech who could easily integrate Bitcoin into their existing payment systems.
Its important to remember there are many other uses for Bitcoin other than online gambling and this morning's session dedicated to the subject featured Max Keiser, CEO & Co-Founder of StartJOIN.com & StartCOIN.org, Simon Dixon, CEO & Co-Founder of BankToTheFuture.com and Brock Pierce, Managing Partner of Crypto Currency Partners (one of his many titles and companies).
Keiser received his first Bitcoin when it was worth two US dollars and three virtual currency patents later he's now behind a Bitcoin Crowd Funding company and still using Bitcoin.  One of the ways Keiser uses Bitcoin is for paying journalists in economically stressed areas and in war zones.  "[Bitcoin] is a good way to 'under the table' pay for resources", he said.
Other geographical areas that will benefit from Bitcoin are "smaller, more nimble countries", as Pierce pointed out.  He believes countries such as the Isle of Man should be embracing Bitcoin as the technology will lead to a significant revenue source and create an economic boom.
All panelists agreed there are so many ways we can use Bitcoin's block chain technology, for example it can be applied to debt collection methods, voting systems, medical history & management.  The benefit of no chargebacks and ease of dealing with international customers using Bitcoin was mentioned as well.  Michael Caselli summed things up nicely when he said that while all of the above is true, iGaming is an instantly consumable product making it the perfect avenue to help bring Bitcoin mainstream.
The regulation of Bitcoin within the online gambling industry is a complex subject, with a number of smaller Bitcoin-only operators providing services that are un-regulated and larger, more established iGaming operators who need the approval of their jurisdiction before taking the currency on board.
"In the background, governments of malta, IOM, Alderney, Jersey are looking at how Bitcoin fits with their gaming regulation and financial regulation in order to enable their licensees to use Bitcoin" Caselli told CalvinAyre.com.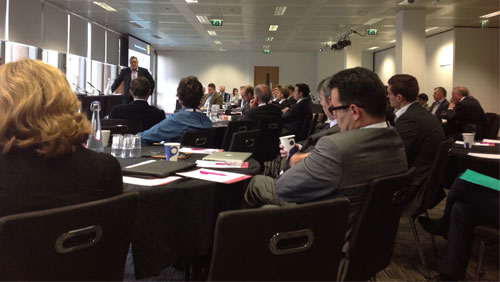 During today's "Regulation of Bitcoin for iGaming panel" we heard perspectives from Isle of Man, Malta and Alderney, all jurisdictions who wish to eventually allow their operators to offer Bitcoin if desired.
Bitcoin is something that cannot be ignored, "its an innovation that is good for the consumer", said Joseph Cuschieri of the LGA.   He confirmed the LGA plan to issue a consultation document with the financial services regulator in Malta and then they will "work towards a longer term solution".  When asked what time frame we are looking at, Cuschieri responded with Q1 next year and assured the audience there has been some groundwork done already.
Over in the IOM, Peter Greenhill confirmed that "things are moving" and the regulation of Bitcoin for their operators "should be soon now".  Robin Le Prevost of Alderney said if Bitcoin could tick all their boxes for payment methods such as Neteller does for example, Alderney would accept it right now, but the currency is not yet able to tick all those boxes.
Benz has spent a lot of time traveling to the aforementioned jurisdictions to speak with the regulators about Bitcoin and educate them on the benefits of Bitcoin for their operators.  He told CalvinAyre.com, "Its important to hear we all want regulation but its  also important to have smart regulation that does not stifle innovation".
iGaming lawyer and Bitcoin enthusiast Stuart Hoegner echoed Benz's comments in a later panel when he mentioned we should stay away from strict regulation right now and allow Bitcoin to evolve and solve its own issues.
Another important point that emerged during today's sessions was the notion that Bitcoin is a "game changer" and that we should not view it as just another payment method.  It was Andreas Anastasiades of BitNPay who made this statement and it supports Matonis's opening remarks that the real opportunity for iGaming operators is in Bitcoin-only offerings.
After spending a day with Bitcoin experts and online gambling industry professionals its clear we're still in the early stages, but progress is being made.  We agree Bitcoin is ideal for global operations, fees are minimal, chargebacks are not possible, customers can easily gamble with small amounts of money, affiliates can get paid on a daily or even hourly basis and transactions are instant. Its also clear that accepting US players is a huge risk and Bitcoin iGaming companies should avoid doing so unless they are OK with jail time.  On a more positive note, the concept of Bitcoin is an innovation of enormous scale and as it continues to progress, iGaming industry is here to embrace it.
Comments