Bitcoin is one of my favorite subjects.  The concept of crypto-currency is fascinating and the industry tends to attract intelligent, passionate, young and hungry entrepreneurs, especially when it comes to Bitcoin. The energy surrounding the industry is contagious, similar to how the online gambling industry felt in 2005.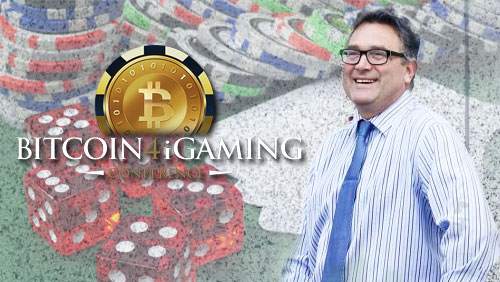 Online gambling conferences around the world have been weaving a Bitcoin session into their agendas for approximately two years now.  The problem with these one-off sessions is most people in the audience are new to Bitcoin and they ask basic questions, restricting these sessions to more of a "Bitcoin 101" lesson.
To help spread awareness, the Bitcoin industry took it upon themselves to educate online gambling industry professionals on Bitcoin and now the time is right for a dedicated conference.
Bitcoin4iGaming.com is the first conference combining the two industries and its taking place in London on Monday, November 24th.  The conference will be covering subjects such as why Bitcoin is such a good fit for iGaming, regulatory issues, Bitcoin use in other industries, the future of crypto-currencies and alt-coins.
While the majority of the online gambling industry follows Bitcoin and appreciates the concept, few have actually integrated the currency into their business.  There is opportunity for integration and innovation in the Bitcoin gambling space, even when it comes to land based casinos in Las Vegas. In fact, there is a Bitcoin ATM on the Las Vegas strip that has proven to be the busiest Bitcoin ATM to date.
Jon Matonis is a Board Member of the Bitcoin Foundation, an e-Money researcher and crypto-economist, an advisor to Bitcoin start-ups, a contributor to Forbes Magazine and CoinDesk and the Editor of The Monetary Future.  Matonis is a featured speaker at Bitcoin 4 iGaming and is a well-respected figure in the Bitcoin industry.
According to Matonis, while the progress of Bitcoin in the traditional iGaming industry has been slow, it's the smaller and more nimble operators who will be able to stay ahead of the major operators.  He elaborated:
"BTC has incredible potential in the gaming world, as you know.  The ones to look to are the iGaming companies that are operating today with BTC exclusively (bitcoin in / bitcoin out). That is the most logical business model today because it avoids the issues of the operator becoming classified as an exchange, which would happen with a mixed currency operator. The issues to learn are (a) how much do you allocate between hot wallet and cold wallet, and (b) how much of operational profits (%) do you leave on the balance sheet as BTC. The great industry examples are here: Mems Bitcoin Gambling List and Bitcoin Forum".
As you can see, there are already a number of boutique "Bitcoin in/Bitcoin out" iGaming sites in existence, created by developers and Bitcoin enthusiasts who likely have no outside knowledge of the gambling industry.  We've also seen a few smaller operators adding Bitcoin to their currency offerings for a "competitive wedge" against mainstream operators, as Matonis says.  The next step would be the integration of Bitcoin into mainstream operators, one of the moments that the Bitcoin industry has been waiting for.
Regulatory issues are often cited by the "majors" as a concern when they are asked for their thoughts on integrating Bitcoin into their currency offerings.  Bitcoin enthusiasts such as Eric Benz of GoCoin are already putting in the hours to meet with iGaming regulators, educate them on Bitcoin and sell them on the currency's benefits, but it's proving to be a lengthy process.  There are some operators who are willing to use a different approach, however.
"Task forces are moving slowly and the operators supporting bitcoin appear to be following the maxim that if it's not strictly prohibited then it's permitted. This is a good strategy to gain early market share", said Matonis.
Another opportunity for gaining early market share lies in the affiliate side of the business, simply because most affiliates are not yet focusing on Bitcoin and competition is low.  Matonis mentioned this fertile ground for affiliates during an interview at LAC 2014 and also pointed out affiliates can take on a leadership role and educate the masses on the benefits of Bitcoin and iGaming.
Its been eight months since this interview and Matonis acknowledges there are still some details to iron out before Bitcoin affiliates immerge as mainstream.
"Unfortunately, I have not seen much progress on the affiliate front. I think the industry is still deciding if the affiliate channel will be represented by crypto merchant processors like GoCoin or represented by existing integrators like Playtech that can also offer a payment module", he said.
Alt-coins, or "alternative crypto-currencies", will be another topic of discussion at Bitcoin 4 iGaming next week, although Matonis himself is not a big supporter.
"In the worst sense, alt-coins are a distraction and they divert attention and resources away from Bitcoin (which is the preferred leader). One good thing about alt-coins is that they can act as an experimental testbed for new features that may be able to be incorporated into Bitcoin", he said.
Clearly a true Bitcoin supporter, Matonis is an asset to the crypto community and a strong voice for the public.  I will leave you with one of my favorite quotes from Matonis, one that rings true for our industry and in my opinion, also rings true for individuals:
"You would be negligent as an operator and negligent as an affiliate if you didn't study the potential for Bitcoin".
Comments