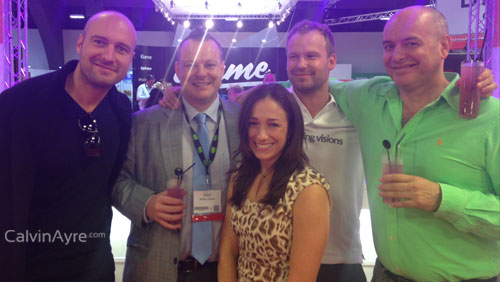 The first SiGMA is now officially over and it's safe to say that expectations have been surpassed.  Delegates were pleasantly surprised with the exposure they received from exhibiting, the networking opportunities were solid and the organizers were gracious, responsive and accessible.
SiGMA's second day yielded a smaller crowd than day one, but the expo hall crowd picked up as the afternoon went on, once again creating a fun, casual vibe with free beer flowing.  This evening the organizers are throwing an "official SiGMA closing party" at the Westin Pavilion featuring a custom designed venue, live DJs, VIP tables and some other surprises.
Over the past two days the SiGMA expo floor provided value to all of its exhibitors, especially to newer or smaller companies who are now ready to showcase their products.  For example the locally based Portomoso Gaming,a company launched with the idea of putting the land based Portomoso Casino online to be enjoyed around the world in the form of a live, studio and virtual casino.
Portomaso Gaming's Amanda Flores explained the live casino product is streamed right from the casino floor with expert dealers and an actual casino atmosphere that players can enjoy virtually.  Portomoso Gaming also runs a live dealer studio in Malta, a product built for those who prefer pretty girls to the professional dealers.
Another exhibitor delighted with their exposure from SiGMA was XXL Pro, an "email intelligence" company providing email marketing services.  XXL Pro is new to the iGaming industry and Co-Founder Ray de Bono decided SiGMA was a good place to introduce their product to the iGaming community.  Managing an email list properly can result in lead generation and ultimately more sales, a good fit for online gambling operators and affiliates.
Today's sessions also took a hit in terms of attendance, but the topics covered were timely and delivered by expert speakers.The mobile innovation panel was moderated by Vin Narayanan of Casino City and featured Johan Styren of LeoVegas and Simon Hammon of NetEnt, a nice combination of an operator and supplier point of view.
Hammon revealed that mobile accounts for 16.5% of NetEnt's total revenue and it's the company's fastest growing segment – he projects by the end of 2015/early 2016 mobile revenue will actually grow to 50%.  The shift from desktop to mobile will be "cascading over the next few years", he said.
Styren's company hit the market mobile-first and are one of the leaders in the mobile casino space.  According to Styren, unlike desktop, affiliates are not one of the key drivers of traffic for mobile, most likely because affiliates are weak in mobile right now, clearly a huge area of opportunity for iGaming affiliates. Styren is a big believer that mobile must be considered separately than desktop and sources of traffic are just one of the many differences between the two mediums.
When it comes to predictions for mobile innovation in the future, Hammon mentioned augmented reality and virtual reality, two areas that the iGaming industry certainly has its eyes on.  Styren mentioned an "all in phone" concept where users have a wallet on their phone, a way of identifying themselves on their phone- all technology that is available right now but will take some time to develop and regulate.
Eric Benz of GoCoin, an expert in Crypto Currency, delivered today's session on the subject, covering Bitcoin, wallets and the role the crypto currency can and will eventually play in the online gambling industry.  Benz explained that he has been working with governments and iGaming regulators in Europe to educate them on the benefits of cryptocurrency, namely the UK, Isle of Man, Gibraltar and the LGA in Malta.
Education is key with crypto currencies and there is a big learning curve- "it's not just a new technology, it's a whole new industry", Benz explained.  While some people have their doubts about the longevity of Bitcoin, Benz said it's important to remember that Bitcoin is a brand and yes, it's possible it won't last forever, but the technology – now that is not going anywhere.
Comments