The "EiG" acronym has expanded beyond its original "European iGaming Congress" meaning to "Excellence in Gaming" over the thirteen years it's been in existence. EiG has gone through many changes besides the meaning of its name to keep up with the times, including its location.  This year EiG has moved to Berlin, an industrial city with a contagious vibe and home to many cutting-edge technology companies.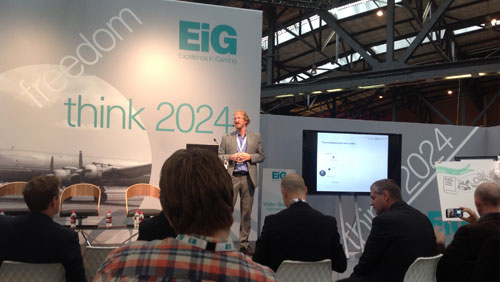 EiG delegates seem to be pleased with this year's changes so far and navigating around the streets of Berlin has proved to be a positive experience for everyone.  The conference feels more full than last year, with the sessions set up as an open plan in the center of the expo hall, plenty of seating areas for meetings and a smattering of booths in between.
This year Clarion has dedicated a great deal of EiG real estate to start-up companies and new technology in the form of the "Start Up Village" and "The Pitch" stage.  Over at the Start Up Village Karan Anand of VVV Solutions demoed his company's flagship product, "SwitchBet", a platform that allows customers to switch their bets to an opposing outcome during a game.  This Australian tech start-up took a booth at EiG to tap into the European iGaming market and educate operators on how their product can enhance a customer's experience.
Another big change at EiG this year can be found in the session structure and line up.  Clarion made a big push, based on delegate feedback, to bring in speakers from outside the industry rather than signing up the same speakers we hear time and time again at conference after conference.  The sessions were divided into three tracks- "Think 2024", tracks designed to address the future of iGaming, "Think 2014", tracks designed to address the current issues facing the iGaming industry and "Microscope", tracks that take a more instructional approach.
Today's Think 2024 "technological disruption" panel featured Futurist Martin Kruse, Mor Weizer of Playtech, David Flynn of NYX, Pascal Brouet of BetClic Everest and Jeff D'agostino of Betconstruct.  The future of iGaming was discussed at length, especially when it comes to new technologies and Big Data.
Brouet advised operators in the iGaming space to invest in making their own innovation rather than relying on suppliers.  Weizer said once the infrastructure is in place for a seamless journey for the customer, Big Data can be analyzed and enjoyed.  "The industry five years from now will all focus on analytics" he said.  "Everything will be personalized in the future."
When asked what their vision is for the iGaming industry in 2024 the panelists responded with:
Flynn: The martini effect- any time, any place, any way.
Pascal: Imagine the gaming experience as an amusement park.
Kruse: Value for the customer, backend work- getting those two things to work in a seamless fashion.  The content will also change- think augmented reality- new technology will provide us with these opportunities.
Weizer: The types of games will not change much, we'll still have poker, casino and betting, although there will be some different approaches.  The way we actually interact will be decided by the type of technology that exists in 2024.
D'agostino: The customer and the operator will become much closer.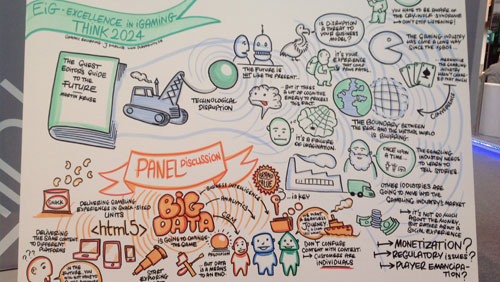 Today's keynote featured Clive Humby of dunnhumby, also the man behind the Tesco ClubCard loyalty program.  Humby opened up his presentation with a picture of a Harley Davidson tattoo to illustrate what true brand loyalty looks like.  His point was that no one in our audience has that kind of brand loyalty and we should not expect a loyalty program to inspire such loyalty.
"Customers should get loyalty from you, not the other way around- that's the misconception- loyalty cards don't build loyalty", he said.
Back on the popular subject of Big Data, Humby warned the audience about the  "data myth" and said it's not all about Big Data.  "It has to be cool, not creepy", he said.  Just because you can do something doesn't mean you should, the most useful data is tiny, he said.
Humby left the audience with five main conclusions about loyalty programs from his presentation:
1) Loyalty is the wrong concept- it's about offering customers something relevant
2) Customer motivations are the key to unlocking value- why are they buying something? To cook? To lose weight?
3) Big data is not a panacea; to be useful it has to be actionable (and not creepy!)
4) Social media is re-writing the rules for getting your message to land- through social media is how you discover your customers' passions.
5) Future of brands is engaging with customers via their passions.
When it comes to the iGaming industry, Humby stressed the importance of trust and reminded the audience that iGaming customers are doing what they are doing for fun and not for necessity; therefore operators can engage to a higher degree with their customers than in the retail world.
Comments