As a seasoned Vegas visitor, I ought to know better than to avoid shut-eye on the journey over, fully aware of the endless eye-bashing and late nights that await me on touchdown at McCarran Airport for my week-long trip to G2E.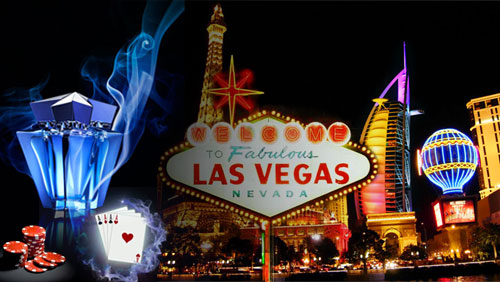 The bright neon lights sit pride of place in the destination guide video that Virgin Atlantic rolls out to passengers doing everything they can to distract themselves from sleep and consequently losing common sense's opening battle with excitement on the long-haul flight from London to Las Vegas.
From the moment you are forced to lift your window blind as you cross over Lake Mead on the descent to Sin City, you know your eyes will never truly rest again until that same sunblock is closed on your way out… in my case, a full 6 days away, by which time it'll be once again clear that common sense never stood a chance.
The sights of Vegas are not subtle. If your eyes seek momentary refuge, take them down to the Neon Boneyard Museum off Fremont and let your memory or imagination do the work by looking at the relics of Binion's Horseshoe and such former Vegas luminaries. A fascinating place. Besides that, you're all set for a trip to the opticians when you get home.
Imagination is not something that is left to its own devices in Vegas either. It tends to be drilled out of your mind by the noise. Vegas' sounds have, in part been covered in this column in the past by examining the alluring nature of slot machine tunes, so I won't dwell on them this time around. My stay at the Encore, one of the smaller casinos on the Strip, did, however, a whole new world of noise. It is, at least comparatively, fairly quiet. You can even hear the casino music, which is rare. "Optimized" covers of Rat Pack and Country classics are the order of the day, and seem to fit in with the higher-end customer's more civilized, more muted, but still undeniably American, whooping and a-hollering at a big win.
I am more of a 'research' gambler than anything else. Not a great deal of a-whooping or a-hollering, that's for sure. Very English. My research of choice focused on the fantastic Willy Wonka slot game. A hundred dollars or so later, the phenomenally engaging, mystical soundtrack got the better of me, with a woman playing on the banked machine adjacent to me hitting back to back 'Oompa Loompa, doobity doo, I've got another feature for you' bonuses and cleaning house. The sound, and I'm sure a look, of envy right there – and about where I'd like to leave sound in general. There was no victory chorus in sight for me, that's for sure.
My "research" on this trip took me to a new sensory level. That of the consideration of smell, and consequently taste – as the two are intrinsically (and scientifically, I'm told) linked – and how they're tied to enjoyment and consequently, spend (these two are also scientifically linked, I'm told).
Last year's Vegas trip saw me stay at the Palazzo. Despite its convenience for G2E, I chose not to stay there this year largely because the smell and potency of the scenting they use in the Sands properties stayed with me for about a week after… it was just overpowering. Call me picky, but I've since learned that, certainly with the premium casinos, the scenting isn't designed to please everyone. Interestingly enough, they'd even gone so far as to switch the scenting down almost completely this time around.
A conversation with AromaSys, who are responsible for 70% of Las Vegas Strip casinos' smells – those found in the MGM and Wynn Resorts in particular – told me that "fragrance branding is a powerful tool that is revolutionizing the way businesses connect with their customers and strengthen their brand identity through the power of scent. Brand aroma harnesses and creates an ambient aroma for any given environment in order to connect with your customers on a number of different levels."
Such levels will include the invocation of positive memories – stretching from childhood to romance to ffavoritefoods to holidays. The Encore, arguably the premier casino hotel on the Strip right now, has the most complicated smell you'll find anywhere in Vegas – even beyond Sapphire's. Jordan Bronstein of AromaSys explained that the fragrancing process carries Steve Wynn's personal attention and is no different to that used at Chanel or Christian Dior. I'd call the Encore's scent, in a deliberately macho attempt at simplification, oriental spice mixed with rose and lavender. Simply a macho guess, you see…
Whilst the smell is obviously designed to do more than invoke positive feeling – notably a handy 'byproduct' is masking tobacco, alcohol and sweat stenches amongst other unsavouriness, it's one that I can prove works… Sundries – the Encore's store, sells the fragrance in various forms and I'm told by a regular and generous patron, who also happens to be one of my biggest affiliates, that he's got a candle on his mantlepiece back home… the ultimate in retention and reactivation marketing right there.
What was everyone else doing from a smell perspective? I've already touched on the Sands properties, whose migraine-inducing scent I've since learned is styled "Seduction". Bronstein confirmed to me that the scenting is turned up and down according to footfall during the day, as standard, but their's is all but off at present. I'd love to see a piece of research linking gaming spend with aroma potency… I bet ol' Sheldon's thought of that one.
The Mirage has a great smell (in my opinion, I'll hasten to add). Waterfall/Tropical Island. Probably evolved a touch since becoming the first casino on the Strip to get involved in Fragrance Branding back in 1991.
The Bellagio. Italy. No idea where precisely, what or how – but there's definitely some oregano in there somewhere.
Treasure Island – The TI. A vague sense of checking in to a Lads Holiday in Tenerife in the lobby, but that might be the look of the clientele more than anything else.
Interestingly, some casinos stay clear of scenting altogether. It's a costly business. I've heard estimations of the cost totalling in the region of $1 million a year at the Wynn properties in Vegas. Cost aside, less picky casinos such as the Stratosphere opt for molecular oxidisation, a technology being pioneered by Casino Air Inc, to purify the air and to produce a scentless result. Reason being… their clientele is, itself, less picky, less high end – and less likely to spunk winnings on candles and room sprays.
I touched on the link between smell and taste. I can confirm that ALL casino scents dry out your throat – something only an ice cold Sam Adams or Hendricks and Tonic can cure. You all know the marketing behind that.
There's a reason I find so-called fragrance branding so fascinating. Curious? If you're not set to travel to Vegas any time soon – you'll pick it up in your favourite chain stores, such as Thomas Pink – whose stores around the world carry a brand scent.
Whilst we cannot (yet) start hiring aromatherapists to get to work when visitors hit our websites, my fascination is the the intrinsic, psychological targeted thinking behind the use of scents. It is remarkable and something I don't believe we've begun to look at in web design or communication in iGaming. A sixth sense, if you like – creating a brand connection that goes beyond the parapets of sight, touch, hearing, taste and smell. Time to flare those nostrils you brand bloodhounds!