The third day of G2E 2014 was a hit with a buzzing expo hall, two outstanding keynote presentations, Sheldon Adelson and Steve Wynn appearances, celebrity impersonators, fashion shows, Playboy Playmates, Miss America and the list goes on.  Today's overall vibe was electric, yet another indicator that the gambling industry in Las Vegas, America and beyond is on the upswing.
State of the Industry Keynote: The Suppliers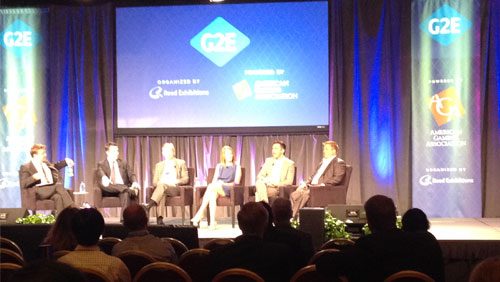 This morning kicked off with a State of the Industry Keynote with suppliers' David Baazov of Amaya, Thomas Graf of Novomatic, Patti Hart of IGT, Jamie Odell of Aristocrat and Pat Ramsey of Multimedia Games. The underlying theme of the one hour and fifteen minute panel was that Adaptability and Change are essential for success in our industry.
"Every industry is cyclical", Baazov said.  Industries that adapt the quickest succeed the most and acquisitions are all a part of adapting.
The issue of layoffs coming along with acquisitions was brought up and Baazov responded with an example of typists losing their jobs when computers came out, but other jobs also opened up for developers.  Amaya itself has acquired a number of companies and Baazov confirmed headcounts went up, not to mention Amaya itself has grown from 40 employees to 2004.
Regarding consolidation and acquisition Baazov said, "The overall outcome for the industry will be much healthier and that's what's important.  Change causes efficiencies", he said.  Hart agreed and added "the notion of adaptability" is so important and when "you prune in one place, you plant in another".
When asked if the amount of consolidation happening in the industry is a surprise or expected, Baazov's response was its a phenomenon, especially seeing such a large amount of consolidation over a short period of time.  He said the access to capital and the sheer amount of cash on the sidelines creates the opportunity.  M&A are based on two elements, Baazov said, fundamentals and timing- "when you are looking into M&A you want to have both".
Internet gaming was also brought up briefly and Baazov responded by saying it all ties back to the consumers and that consumers drive the demands.  "We will innovate to respond", he said.
Food and Beverage Highlights
What we found pleasantly surprising is the Food and Beverage show at G2E has a lot more to offer than free samples.  Today we took advantage of those free samples while enjoying the CINTAS fashion show, thirty minutes of models parading up and down a runway revealing new cocktail and dealer outfits.
Around the corner we found a Michael Jackson impersonator at the Brown Productions booth, a resemblance so strong that you would have sworn he was the real thing- moonwalk and all.  Accompanying Michael later in the day was a Gene Simmons impersonator and rumor had it a Robert De Niro stunt double was roaming the floors as well.
Expo Floor Highlights
The expo floor was buzzing as usual and today's celebrity appearances came in the form of Playboy Playmates.  Bally's featured 2013 Playboy Playmate of the Year, Raquel Pomplun, to promote their new Playboy Club Slot.  Over at IGT, 2012 Playboy Playmate of the Year and Harley Davidson Calendar Girl, Jaclyn Swedberg, hosted a meet-and-greet for the new Harley Davidson Open Road Video Slot.
Sheldon Adelson Keynote Speech
To close out the day, gambling industry tycoon and icon Sheldon Adelson took the stage, making a much anticipated keynote appearance.  The one-hour session took the form of a Q & A, with Adelson coming across as charming, confident and humorous, getting the crowd to laugh constantly throughout his interview.
A quick side note of interest is that Steve Wynn was there in the front row supporting his "good friend", a friendship Wynn was keen to mention yesterday during his keynote and that Adelson echoed today.
Adelson started off by explaining that he's been in the business world for sixty-nine years, since he was twelve years of age.  His motto is to find out what an industry does, find out how to do it differently, be a risk-taker and do it differently. "I am never satisfied with the status quo", he said.
The Asian market was discussed at length, with Adelson claiming if the Las Vegas strip was picked up and dropped into Asia, it would be a hit. Knowing this is not possible he said, "I'll just reproduce the strip the way it is over here over there, and that's what its all about".
In response to the recent blip in Macau's explosive growth, Adelson said everything he has seen in Macau for the last thirteen years is cyclical and the economy will bounce back in the next few months.  He added the new airport and bridge will reach gamblers further and further into China, straight into the premium mass market.
When asked why he never entered Atlantic City, Adelson's response was he didn't like the lack of an existing local market there. As a result, he predicted neighboring states would eventually legalize casinos and siphon from New Jersey…and that's exactly what played out.
Even though we all know his opinion, the question of why he is so anti-online gambling was posed.  Adelson kicked off his passionate response by saying he believes online gambling regulation is not a state rights issue because the internet is all over the country- "this is a cross border, over the state issue", he said.
The even bigger issue in Adelson's mind is underage gambling and he believes its possible to get around the online verification processes and claims "they will find a way".  He believes there is no way to know who is playing and that underage gamblers can use the device of an adult to gamble.  "You cannot know your customer on the internet", he said.
Adelson then went on to explain he was raised in a family that suffered from gambling addiction and he can see his own children addicted to video games.  When he was challenged with the notion that people are gambling online anyway, his response was because people are doing it already is a bad reason to regulate it- should we legalize cocaine? Heroin? Prostitution? He asked.  "I don't see any compelling reason to put an online casino in 318 million hands", he said.