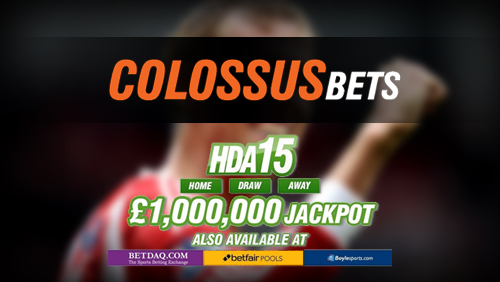 London, September 29th2014
COLOSSUS BETS, home of the £10,000,000Colossus and the world's biggest football and sports jackpots, today announced that the last surviving player in the weekend's£1,000,000 HDA15 Football Jackpot has been offered £324,477 for 100% of their live ticket with just two legs left to go.
Having played through Betfair, one of Colossus Bets' B2B partner sites, the player was made the offer of £324,477for the ticket following Stoke's1-0 victory over Newcastle on Monday night – Peter Crouch with the deciding goal in the first half. The player spent a total of £4,374 on the ticket and has resisted the temptation of Fractional Cash-In thus far, still owning the ticket in full. With a potential £1,000,000 prize up for grabs, comprising a £500,000 win fund and a £500,000 bonus, the player now just requiresa Manchester City victory over Roma in the UEFA Champions League fixture on Tuesday night – having covered all 3 outcomes in the other remaining leg, Barcelona against Paris Saint-Germain.
Having banked on a draw in leg 9 of the bet, it took a late Arsenal equaliser in Sunday's North London Derby to keep the player's ticket live.
The £1,000,000 HDA15 is aweekly 15 leg pool bet with a 1X2 format comprising a minimum £500,000 win fund and a minimum £500,000 bonus – both numbers net of deductions. Any winners of the win fund will have a free pick on the outcome of one further football match the following week, to try and land the£500,000 bonus.In this instance, the bonus fixture is likely to be Tottenham Hotspur against Southampton on Sunday.
A full unit costs players just £2, but like all Colossus pools, the HDA15 can be played for as little as 20p (which buys a0.1 unit and plays for a proportional £100,000).
Thenext £1,000,000 HDA15 kicks off this Saturday with a selection of the weekend's Premier League fixtures and the bet isalso available across all of Colossus Bets'B2B partner sites, including BETDAQ,Betfair, Boylesports and Sportsbet.io.
The £1,000,000 HDA15 is available on www.colossusbets.com on both Desktop/Web as well as a customized smartphone and tablet experience on Mobile Web.