Lee Davy rounds up a week of poker that sees the UK move closer to the implementation of the 15% point of consumption tax; partypoker offering a humble apology to its New Jersey player base after a disastrous Garden State Super Series, Ronaldo challenges Rafa Nadal to a heads-up contest, Gus Hansen does a runner, and Ted Forrest reminds Mike Matusow that he still owes him close to $1.8 million.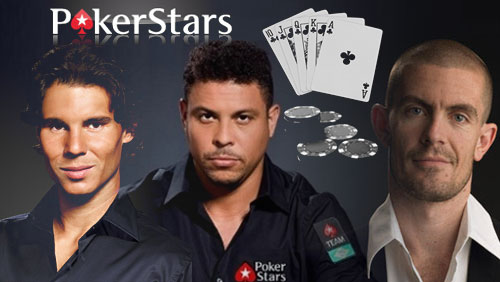 We are less than a fortnight away from the introduction of the UK's new Gambling (Licensing and Advertising) Act 2014, and so far the UK Gambling Commission has received 161 licenses.
PokerStars is one of them, and they became the first of the big online poker operators to advise their customers of their migration plans.
"Just log on and follow the on screen instructions."
I think even I could manage that.
PokerStars need to factor the 15% point of consumption (POC) tax into their financial forecast's, and so far the news from Marvin's grapevine is UK players will make up for some of that with a reduced rewards program for 2015. On the positive side of things, there are no rake changes planned.
One company that is not willing to pay the 15% POC is Winamax. The second largest online poker room in France, has decided to withdraw its UK operation and instead focus on its battle with PokerStars for French dominance.
The third largest online poker room in France belongs to partypoker, and it got a little bigger this week after bwin.fr withdrew from the Ongame network and merged their player pool with partypoker.fr. The move leaves Ongame France with the same number of players that currently play on the surface of the moon.
From French online poker to French offline poker, and the police raided the oldest card room in Paris this week. 12-employees were taken away from the Aviation Club de France (ACF) this week on suspicion of illegal employment practices and money laundering.
It's widely believed that the whole affair has something to do with Corsican gangsters and as I don't want to wake up next to a horse's head, I think I will change the topic and focus instead on partypoker.
The Garden State Super Series Goes Tits Up
What should have been a momentous occasion in their fledgling US shelf life, turned into an absolute disaster, when their servers threw a wobbly smack, bang, in the middle of their inaugural Garden State Super Series (GSSS) Main Event.
Several events were cancelled, players took to social media to vent their frustration, and Group Director of Poker Jeffrey Haas was forced to offer up a humbling apology.
We forgive you, Jeffrey.
Partypoker made amends by making sure nobody was out of pocket, that all guarantees were met, and $50,000 in additional prize money was added to the remaining fixtures.
Ronaldo Challenges Rafa and Hansen Does a Runner
If PokerStars is a bad actor then Full Tilt Poker are z-list material.
I'm serious.
You can accuse The Rational Group of many things but nepotism isn't one of them.
In another remarkable case of Cinderella v The Ugly Sisters, Stars and FTP have both pulled their magical marketing campaigns out of the bag. On one hand, you have the underwhelming heads-up showdown over at FTP between Gus Hansen and Viktor Blom. A showpiece that 62% of those polled at CalvinAyre said they couldn't care less if the event even went ahead.
It seems Gus Hansen was one of those polled, because he didn't even bother to turn up, leaving Jake Cody to act as a last minute stand-in. Blom wiped the floor with the NLHE expert, and nobody really cared.
So what about their big brother PokerStars?
Oh they just rolled out a little something called The Duel. A heads-up showdown between the 14-time Grand Slam winner Rafael Nadal and the Brazilian World Cup legend Ronaldo.
That silver slipper is only going to fit one foot…and it's a red one.
New Skool and Old Skool Signings
One company that is going to be keeping a close eye on the PokerStars machine is the World Series of Poker. Senator Ray Lesniak believes the Red Spade will start excavating New Jersey soil in October, and Morgan Stanley believes it will be Jan 2015. Either way, the news is ominous for the competition—they're coming!
WSOP.com have reacted by signing their first ambassador – and he's a beauty. Former WSOP Player of the Year, and Main Event champion, Greg Merson, has joined Caesars Interactive owned poker room to help promote the brand in New Jersey and Nevada.
So WSOP.com have signed a member of the new skool to help promote a new skool product.
Smart thinking.
Well, someone had better tell that to the brains behind the soon to be launched cryptocurrency online poker site Breakout Gaming. The innovative company that is planning to create an ecosystem that uses their own unique currency, has approached a plethora of golden oldies to help promote their product including: Jennifer Harman, Layne Flack, Todd Brunson, Huck Seed, David Benyamine, and Johnny Fucking Chan.
I nearly forget Ted Forrest.
How could I forget Ted Forrest?
Well, I guess if Mike Matusow can forget about him then so can I.
Forrest was playing with Twitter like a young boy plays with his pecker this week, ending up in a volley of words with Mike Matusow's brother Scott.
Forrest told the world that Matusow had only paid him $70,500 of the $1.8 million he still owed him for the weight loss bet that they made four years ago. If you don't remember the bet, Forrest told Matusow that he could get under 140 pounds. Matusow said he was full of shit. A bet was made. Forrest – after nearly starving himself to death – won the bet, and Matusow owed him $2 million.
"I don't have the $2 million to pay out. I made the bet because I didn't think it was feasibly possible," said Matusow at the time of the bet.
So how was Matusow going to get out of this hole?
It seems his thinking was as innovative as Breakout Gaming when he decided he was going to wait for six months to see if Forrest would die as a result of his over the top fasting plan.
Forrest didn't die, Matusow didn't pay up, and his brother insisted that Matusow doesn't have to pay him anything because he failed to submit to a drugs test.
After nearly starving himself to death in order to win the bet, Forrest reacted to the drug testing comment by saying. "Do you really think I would undertake that weight bet and use drugs? That would be really dangerous and stupid."
Says the guy who refused to eat for 10 days and barely drank any water.
Comments