The 2014 US Open Men's Grand Slam title will be decided by Kei Nishikori and Marin Cilic or as some people may collectively call the two—who and who?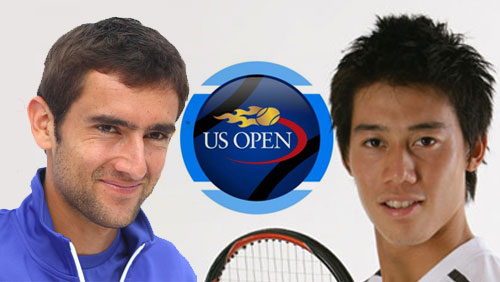 If you're a part of this group who isn't familiar with Nishikori and/or Cilic, now's the time to get used to their names because one of them is going to win the US Open title. Nishikori and Cilic booked their tickets to arguably one of the most improbable Grand Slam finals matches in recent history by beating favorites Novak Djokovic and Roger Federer in their respective semi-finals matches.
How improbable was this result? Consider that this will be the first Grand Slam final since the 2005 Australian Open that won't feature Federer, Djokovic, Rafael Nadal or Andy Murray. Marat Safin beat Lleyton Hewitt in the 2005 Australian Open, in case you're wondering.
This match is so unlikely that both Nishikori and Cilic were 66/1 odds to win the tournament. Fortunately, there wasn't much action on either player to win the tournament, at least not for William Hill, so said spokesman Joe Crilly.
"Just over 4% of wagers in the book pre-tournament were for a Cilic win with just over 5% on Nishikori," Crilly told CalvinAyre.com.
"A final between these two was incomprehensible and nobody backed these two to go all the way and meet," he added.
William Hill, in particular, also got a huge assist from Nishikori when he pulled off the upset on Djoker in the semi-finals, which was according to Crilly, "best backed with almost 18% of the book".
Still, other bookmakers are likely to sweat out the finals between these two, including TAB, which told ESPN that one of its bettors has a pending AUD 40 seven-match tennis parlay that will cash AUD 135,526 should Cilic beat Nishikori.
Whoever wins the final, those who had the foresight to pick the 10th ranked Nishikori or the 14th ranked Cilic before the tournament started will cash in on enormous odds.