Arizona senators John McCain and Jeff Flake have introduced a bill that will prohibit any new casinos in metropolitan Phoenix.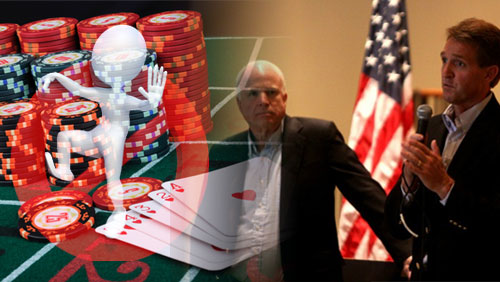 The legislation seeks to block a planned casino being developed by the Tohono O'odham Reservation on unincorporated land less than two miles away from Jobing.com Arena (home of the NHL's Arizona Coyotes) and the University of Phoenix Stadium (home of the NFL's Arizona Cardinals) near Glendale.
The two senators' objections center on the Tohono O'odham Nation's plan to bring Indian gaming to a metropolitan area like Phoenix or as McCain and Flake said in a statement, "On lands not connected to an extant reservation."
However, the tribe is arguing that it is within its rights to develop a casino in the area, even if its reservation largely falls in Tucson, 118 miles south of Phoenix. The tribe is pointing to a congressional settlement reached between Congress and the Tohono O'odham Nation that allowed the latter to purchase up to 9,880 acres of replacement lands in exchange for granting rights, lands, and interests subjected to constant flooding in the early 1980s.
McCain and Flake's bill is a companion bill to U.S. House Bill 1410, which is introduced by Congressman Trent Franks and approved by the House last September.
HR 1410 or the Keep the Promise Act of 2013, sought to overturn the 1986 settlement, formally known as the Gila Bend Indian Reservation Lands Replacement Act, and prohibit the development of any casinos on land in the Phoenix metropolitan area on Indian land acquired after April 9, 2013.
Salt River Pima-Maricopa Indian Community (SRPMIC) President Diane Enos is squarely on the side of the two senators, applauding the stance taken by McCain and Flake.
"This important legislation will reaffirm the tribal state gaming policy that was approved by the voters in Arizona in 2002," Enos said in a statement.
"A key element of the policy was that Indian tribes promised that there would be no additional casinos allowed in the Phoenix metropolitan area. This will stop additional county islands inside cities from becoming new casino reservations."
Comments