Lee Davy sits down with the CEO of the Global Poker Index Alex Dreyfus to talk about Phil Hellmuth's worries about the GPI formula, the role that mainstream brands will have to play in poker and much more.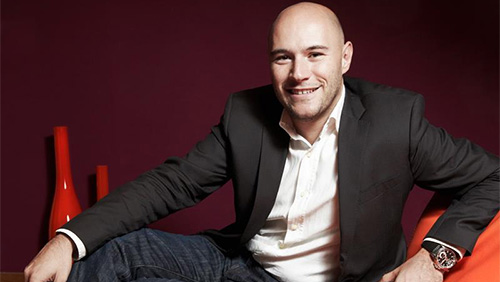 Alex Dreyfus and Phil Hellmuth are two very passionate people and their passion is fuelled by the game of poker.
Hellmuth's success is one of the reasons why poker has achieved so much global popularity in the past 25 years and Dreyfus seems to have taken the baton and is prepared to run into the future to make sure poker gets even bigger.
But they do have very different views on the way forward.
During my recent interview with Hellmuth, he told me that he has some concerns over the GPI formula and believes that it's flawed. I couldn't help but wonder if this wasn't because the GPI has no formula for preserving the sparkle of the good old days and I wondered if Dreyfus had the same opinion?
"I love to disagree with Phil Hellmuth and it has happened quite a few times over the last two to three months," said Dreyfus. "I understand his point. He is whining because he cannot be in the top rankings…but the figures don't lie.
"The GPI ranks the best players, not the greatest players. There is no ranking for that. It's a perception, and players who are the greatest are honored at awards ceremonies. As we are organizing the American Poker Awards on 23rd of February, in LA, perhaps I will do an award dedicated to him and he will be happy?
"He says the High Rollers should not count in the GPI—except the ONE DROP—and that doesn't make sense. Either they all count or nothing counts. The GPI is the fairest ranking system that exists because we count every single poker tournament in the world.
"Every year we adjust the formula to fit to the needs of poker. Don't forget the GPI Rankings has only existed for three years and we have already made adjustments because of the increase in High Rollers.
"Last but not least he was complaining that players like Dan Smith are not as good as he is on TV, and that's true, but he has been doing this for 30-years. How can you compare the two? Tennis used to have John McEnroe and he was great, but today we have Rafael Nadal. Everybody has a cycle and perhaps Phil Hellmuth is past his cycle?"
Don't you think that he is just being critical because he doesn't play that many tournaments and therefore will not be recognized as one of the best players in the most important ranking system in poker?
"Because he is the greatest he should not be touched by that. He is above my ranking. I wrote the other day that being the greatest is not the best. He is a great player but he is not the best, period.
"Tiger Woods is not number one anymore. You cannot be the number one all of your life. Tiger Woods cannot be number one today because he was number one 10 years ago and it's the same for Phil Hellmuth."
But the game needs superstars if we are to promote the game to a global mainstream audience.
"I am working on that right now. I am trying to bring mainstream consumer brands to work in the poker industry and it's the most difficult thing ever. Today, if I have a brand I have to work with Phil Ivey, Phil Hellmuth or Daniel Negreanu because they are exposed—they are known. Dan Smith, Ole Schemion and even Vanessa Selbst, they are not known outside of the poker community.
"Let's not forget that the reason these people are known is because the online poker companies spent hundreds of millions of dollars marketing these players. This doesn't happen anymore. There is no competition between Stars and FTP and only Winamax have a poker team. Even Stars aren't promoting poker players that much but instead are being promoted by sports players and famous players.
"The industry is shifting. I have been speaking to a Swiss watch making manufacturer, energy drinks guys and sunglasses manufacturers, but it's so difficult to bring these people on board to support poker players."
Why is that?
"Each time you see something about poker in the news it's either someone who has died, or a chip scandal in Borgata…it's always something that's no good. In the next few weeks I will be trying to work with mainstream media, and sports media, in the US, to promote poker as a sport and as skill game—not a gambling game."
What else can be done so the world can get a glimpse of the might of poker?
"The biggest problem with the poker industry is the poker players. How can we expect them to attract sponsors if they are not able to present themselves correctly to represent a brand? I understand it's very hot in the Rio, but everyone is in shorts and sandals and that's no good for us trying to attract sponsors.
"The Global Poker Masters will have a dress code. I want players to be very well dressed for this event because I want the event to be marketed differently. We need poker to evolve and we need the stakeholders – like the players – to understand that if they want to get more money, more players and sponsors they need to make a difference as well.
"The poker market today is $4 billion business. $2.5/8 billion online and the rest is the live tournaments, and then the cash games that we cannot monitor, that would be another few hundred million or more. So we are in a situation where we have a $4 billion market and very few players who earn significant money. Instead, we have a lot of players who are broke because it's a very difficult job. Poker as a pro is very difficult. There are only a few that make significant amounts of money. We need poker to become a stronger community. We need more solidarity. Today, every single poker initiative goes in the same direction but there is no coordination.
Dreyfus goes on to talk about a tweet that he posted a few weeks ago and the reply he received. He stressed that his figures may not be accurate off the top of his head.
"Two weeks ago I tweeted that the top 10 ATP players earns $52m, the top 10 PGA players earns $47m and the top 10 poker players earns $42m – although those figures might not be 100 percent accurate. My goal was to show that we are in the same ballpark as the big sports when it comes to money.
"Of course a journalist said, 'Yeah, but does it include the buy-in and the ROI, etc.?' We shoot ourselves in the foot if we think like that. If we are promoting figures, that don't service the industry, then we are not all rowing in the same direction. We need to promote a dream. The reality is when Rafael Nadal plays tennis he flies by private jet, he has a personal coach, etc. They have a ton of costs and they make most of their money thanks to the sponsorship deals. It's very similar with the poker industry.
"When we acquired the Hendon Mob we kept it like it is. There are two rankings: the all time money list, and the GPI list, which is a performance related list. Both rankings are needed. If you go to PGA.com or ATP.com they will always have a points ranking and a money ranking. They reflect two different things."
So is it important for us to promote the big numbers?
"It's important for us to promote the big numbers. Chris Moneymaker was able to win $2.5 milion starting out playing online. That was the storytelling we needed at that time. By promoting that story we attracted more players. At the same time we need to show that the best players are not the players who win most of the money, they are just the players that are ranking well. Why? A guy like Ole Schemion, who last year won the GPI POY, did so without going to the WSOP – and just so you know the WSOP is worth 30 percent of ranking points and yet Schemion was able to win without even attending."
The GPI is the new change that poker needs.
"I believe the initiative we are building with the GPI, which is starting to be really endorsed by the industry, is going to make a change, but it's going to take 3-5 years for that change to happen.
I was speaking to Steve Lipscomb, the founder of the WPT, and I was telling him that what the WPT did 12 years ago, with hole cameras, changed the poker industry. I hope, in time, that the GPI will do the same, but with a different innovation, and it will start with the US."
Do you often feel like you are ploughing a lonely furrow?
"Big Time but I have a great team, and an amazingly supportive fiancé. 18-years ago my first company was an online city guide. It was too early back then so we had to educate everyone. We call this to 'evangelize'. With the GPI I have a dream, and I have to educate people in my dream. It is very expensive and tiring, but if I have the money, and the energy, then I am all-in."
The Global Poker Masters is a team event, how difficult was it to make this decision when poker is nominally an individual pursuit?
"I didn't want to do an individual event. Maybe one day we will. But the way I see it my aim is to become the kind of world cup of poker. Meaning that we want to reward the best nation. For 12 months, before this event, I want players to fight for the right to represent their country. Just like football. I am French and I want to do my best and be selected for my country. I want everyone to think like this.
"We are going to make some changes and extend it to the GPI 300 so it will be a bit bigger. Also Phil Hellmuth gave me an idea that we could take note of the Ryder Cup format to allow us to take a player who is outside the GPI Ranking to get involved, which would allow the US to include the greatest player in the world.
"We already reward the best individual player. It's the number one ranked GPI player, and the POY, who are the best players – so there is no need for an additional tournament to promote the best of the best, and I am against that. Right now we are pushing too much, the winners of events, and not the regular players who are also strong. Our rankings expose the players who win regularly over the years."