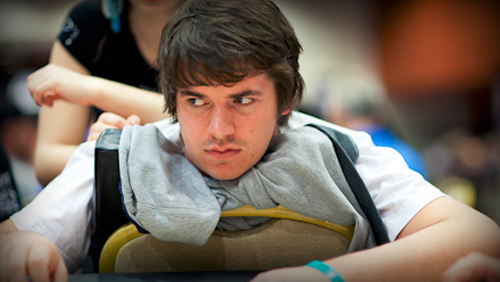 Lee Davy catches up with 'Mad' Marvin Rettenmaier to talk about his recent weight loss, the problem of unpaid loans in the game, and the heartbreak of finishing runner-up in the $10 rebuy at Planet Hollywood.
I catch Marvin Rettenmaier on his way out of the Rio.
Never a good sign.
"I've just busted the 6-max. Damned Brit." Says Rettenmaier.
The damned Brit he is referring to is the World Series of Poker (WSOP) bracelet winner, Craig McCorkell, and our German superstar is on his way to the Strip to spend the rest of the evening with his mother, who has popped into town to have some fun.
I have to say it's the leanest I have seen Rettenmaier since I first met him four years ago. His cheekbones are more defined and his body looks taut too.
So what has the young German been up to?
"Plenty of pole dancing. Some people say it's a joke, but it's the real thing."
My mind fills with pictures of Rettenmaier sliding down a pole, and my Dictaphone goes limp.
"I am eating a little healthier as well. Not too crazy healthy where I don't allow myself to eat anything, but healthy enough. I have also been doing a little bit of running…and plenty of dancing."
So just how much has Rettenmaier lost in terms of weight?
"I think I have lost about 15 kilos. I feel better in general definitely."
Eating healthily, and looking after your body, is generally rewarded with a more astute state of mind, more energy and a better outlook on life. I wonder if his game has improved as a result of the positive changes he has made?
"I'm not sure it's helped my game to be honest. I haven't had the greatest start to the series. But I did cash twice yesterday. Once in the $1,500 Pot-Limit Hold'em, and then I lost heads-up in the $10 rebuy at Planet Hollywood. I was very sad…I got it in good too…that was a fun one."
Our conversation changes tact and I ask him if he is going to be investing heavily in other people's action. Last year, I remember watching him railing players that he had pieces of. Something Rettenmaier has always been a little coy about. I guess some things don't change.
"I don't have as much action as I would like to have, but I have a little bit here and there."
That leads us nicely onto the subject of money lending and the recent incident involving Jeff Lisandro and Brandon Cantu. I ask Rettenmaier for his view on the state of the game when it comes to unpaid loans.
"It's definitely a big problem. I don't understand how there are so many people out there – who the whole poker community knows have issues in some way – that still play in all of these big tournaments?
"I honestly don't understand where the money comes from? They are obviously broke, and can't pay people the money they owe them, and are still playing $25k's here and there. It just doesn't make that much sense to me. I am not going to mention any names, but I did know about Brandon for a while."
I ask Rettenmaier if he has ever been in a situation where he has had to receive backing, or take a loan from someone, in order to stay in the game he loves so dearly?
"I have never been backed, or had to do anything like that. I have given people money that I haven't gotten back, and won't ever get it back. But in the main I am very careful with my money, and in the instances I got caught I really didn't expect it."
In the light of the recent Lee Childs court case I ask Rettenmaier if he has ever considered legal action to try and reclaim the money that is owed to him, or does he have to accept that it's a business investment turned bad and get on with it?
"My issues were all involving people who just didn't have any money. I have one guy who if he makes the money in the future will give it back to me, another one has just disappeared, and I managed to get the money back off another one in a weird way that I don't want to go into here."
Add your own ending to that one folks.
Rettenmaier was extremely close to playing in the inaugural BIG ONE for ONE DROP; does he have any plans to play this year?
"I was going to play the event, two years ago, but there were some issues that were not on my side. I had the money here, but in the end it was down to the cap being set at 48."
"This year I didn't want to start from zero. If a rich businessman was to say, 'Here is $500k go and play,' then I would have tried to do it, but I didn't want to start from zero."
As talk of playing in a $1m buy-in event drifts off into the ether, Marvin Rettenmaier heads off to Planet Hollywood to play some low stakes poker with his Mum.
It's a mad world.