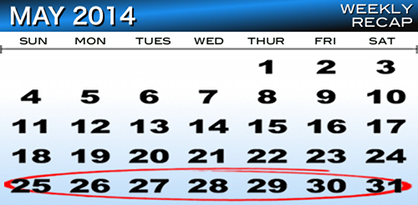 THE AMERICAS
A draft of a new federal bill to ban online gambling except poker surfaced as did the promise of a new intrastate poker bill in Pennsylvania; the Minnesota Lottery's online scratchers got new life as Gov. Dayton vetoed a bill banning online sales; Amaya Gaming issued a tepid denial that it was talking to PokerStars about some kind of deal; federal authorities investigated sports bettor Billy Walters for alleged insider trading; golfer John Daly reminisced about the fun he had blowing $55m on gambling; Nevada online poker revenue fell 14.5% in April; New Jersey will know by June 23 if the Supreme Court will hear its sports betting appeal while the Court told Michigan it couldn't sue to prevent an off-reservation tribal casino; Jamaica approved telephone and text sports betting; Nevada once again rejected election betting; a federal judge tossed Caesars Entertainment's lawsuit against Stephen Crosby; social gamers Win inked a free-play deal with the Thunder Valley Casino in Sacramento; California regulators postponed a decision on whether to renew Casino M8trix's gaming license; Rafi Farber explained how Chris Christie got his online gambling tax revenue estimates so wrong and Jason Kirk recapped the five most memorable World Series of Poker wins.
EUROPE
Gamesys yanked its real-money Bingo & Slots Friendzy app from Facebook; Playtech shuffled its executive ranks; Greek betting monopoly OPAP's profit leaped on improved sports betting and cost cutting; an Irish judge slammed Boylesports and Paddy Power for not catching an embezzling bookmaker quickly enough; Bet365 applied for a Bulgarian online gambling license; London casino Les Ambassadeurs reflected on its new Asian focus and fended off a lawsuit from a disgruntled high-roller; a new survey revealed that most UK gambling ads were missing their target audience; Tom Galanis examined why opinion is so divided on Ladbrokes' latest marketing campaign; the UK's advertising watchdogs criticized a Coral Interactive ad for being too sexy while Mike O'Donnell mulled the importance of keeping ads clean; poker pro Tony G won a seat in the European Parliament and Rebecca Liggero profiled Casino Saga's efforts to bring gamification to online casino games.
ASIA
Japanese PM Shinzo Abe offered his endorsement for his country building casinos but the necessary legislation hit a snag in the Diet; Thailand authorities gave off mixed messages regarding online sports betting; Macau casino workers expressed an unwillingness to die of lung cancer; Queensland gave initial approval to two Asian-backed casino projects; the Roxy Casino on the Cambodia/Vietnam border reopened under new management; video game outfit Konami expressed interest in a Japanese casino; PETA said Taiwan's pigeon racing industry was in serious need of reform; Betfair TVG's John English discussed the state of mobile gambling in Asia; a Philippine legislator proposed measures to restrict PAGCOR's mandate; Aussie poker pro Bill Jordanou was arrested in connection with a $100m fraud and Rebecca Liggero recapped her five key takeaways from the G2E Asia sessions.
Comments