For nine years and counting the Online Bingo Summit has provided a meeting point and educational opportunity for any professional working in the online bingo vertical.
This year Bullet Business invited over twenty five experts to speak on important topics surrounding online bingo, provided ample networking opportunities and partnered with Which Bingo to deliver the 2014 Bingo Awards, an event that bridged day one and day two of the Bingo Summit.
Dozens of online bingo professionals spent the past two days at Victoria Park Plaza Hotel and enjoyed presentations and panels, networking during the breaks and lunch and for many, catching up with old friends in the industry.  Topics covered at the Summit ranged from UK Point of Consumption Tax (POCT) to social, mobile, new technologies, affiliate marketing, branding strategies and more.
Today's affiliate marketing panel featured representatives from BingoPort, News UK, Paddy Power and Focus Online Management.  Scott Logan of BingoPort confirmed that affiliate marketing in the online bingo business is certainly not dead, but that its changed quite a bit over the last ten years.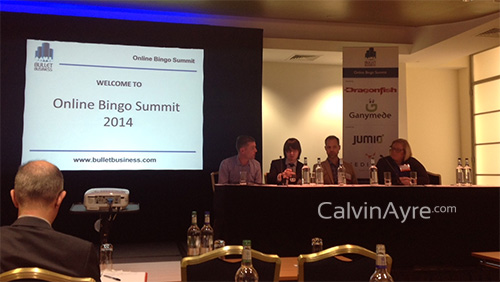 As an affiliate in the business for over a decade, Logan explained that the SEO strategies have changed drastically, shifting how affiliatesgenerate their traffic.  Affiliates are buying more traffic these daysand this changes the way the operators pay affiliates, for example, more affiliates are now on a CPA scheme than revenue share.  "It's a deep change we've seen", said Logan.
The different types of online bingo affiliates and their role in reactivation were also discussed.  On one hand we have content based affiliates such as BingoPort with a base of players that trust them for recommendations and on the other hand, we have affiliates who are PPC focused and are not the best for reactivation.  There are many types of affiliates, Logan said, and from an affiliate program perspective there should be more than one model as the "one size fits all" model won't work.
Another issue discussed in the panel included the huge number of new bingo brands popping up despite the saturated nature of the market. Moderator Phil Fraser of WhichBingo confirmed that eighteen new brands have been launched in 2014 with eight of them launched in April alone- he said WhichBingo is now listing four hundred sites, the most they have ever listed in their history.
With POCT looming in the UK, some affiliates are nervous about the future of their revenue streams and this was discussed as well.  On a positive note, all the panellists felt that the imminent implementation of the tax will actually provide an opportunity for innovation and that affiliates should take advantage of that.
In a later panel, the discussion centeredaround the issue of differentiation in a saturated marketplace.  Seeing as so many bingo sites are skins of a particular provider, its difficult to differentiate by product as the skins are at the mercy of their provider.  Rather, as a representative from Iceland Bingo explained, brands must differentiate themselves through marketing and branding strategy.
For example, Iceland Bingo can offer players £10 off their next shop, a good way to leverage their brand and reward players. Darren Sims from LuckyPants Bingo agreed added that players like to recognize brands and to engage with brands that they know outside of bingo- offering "Deal or no Deal" slots is a good example of how it can be done, he said.
On the subject of slots, when it comes to real money bingo players, operators tend to acquire players by bingo and then move them over to slots as this is where the real money is made.  At the same time, if bingo operators lose sight of their core product, they could lose players who are also highly engaged with bingo and the more social aspects of bingo such as the chat rooms.
Something to keep in mind when it comes to the social aspect of bingo players is there seems to be a large divide between bingo players who play for money and bingo players who play just for entertainment.
Real money bingo players want to win money, plain and simple, but some do enjoy the additional social features while they are at it.  On the other hand, as MontsePuig of Akamon pointed out, social players are mostly there for entertainment and don't really care about winning money.  Frasher added that the two bingo sites who have tried to combine both real money and social have failed, so until we figure out how to do it right, sites should likely stick to one or the other.
Google presented today as well and despite the typical "sales pitch" nature of the presentation, something interesting came out during the Q & A- a number of bingo operators are interested utilizing the power of YouTube.  Google's representative responded with the importance of cross device promotion over YouTube strategy, but added if you're looking for a full fledged brand promotion, YouTube is the way to go.
When asked for an example of "who's doing it right", the answer wasReed.co.uk's"Official Love Monday's" YouTube campaign, something that might be worth checking out.
On the bingo celebration front, according to Fraser the WhichBingo Awards were a great success and he wishes all of the winners another huge congratulations.  Here are the winners from last night's festivities:
Best Online Bingo Site: Jackpot Joy
Best New Online Bingo Site: Bubble Bonus Bingo
Best Mobile Bingo Experience: Mecca Bingo
Most Socially Responsible Bingo Site: Paddy Power Bingo
Best Boutique Online Bingo Site: Iceland Bingo
Best Online Bingo Software: Virtue Fusion
Best Online Bingo TV Ad: Sun Bingo
Online Bingo Game of the Year: Game Shot Bingo-Jackpot Joy
Best Online Bingo Chat Team: Sun Bingo
Best Online Bingo Promotion: Win a Fiat 500- Jackpot Joy
For full details on the award winners visit WhichBingo' s winner page and follow @WhichBingoUK for the pics- they will make you smile.  Congratulations again for a job well done.