Irish Open 2014 winner is Patrick Clarke after defeating his fellow countryman Dave Pollock in heads-up action.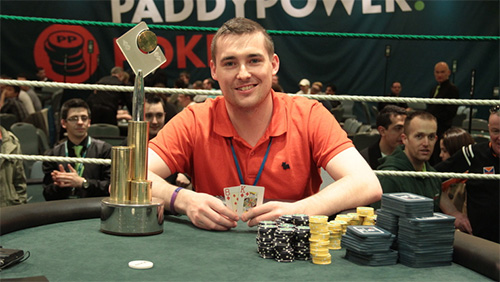 Patrick Clarke has joined the likes of Neil Channing, Marty Smyth, Liam Flood, Noel Furlong and Joe Beevers in the list of Irish Open champions after defeating Dave Pollock in heads-up action in Dublin.
Clarke, who finished 14th in this event last year for his career highest score of $4,414, takes home €200,000 for the top prize, and a €50,000 bonus by being the Paddy Power Sole Survivor.
411 players entered the event, which was 94-players shy from the 2013 event that was won by Ian Simpson, who promptly got down on his hands and knees and proposed to his fiancée.
No proposals this year.
Just madness and mayhem.
This is how the final table went down…
The exit of Jonathan Lundy, in eighth place, ensured there would be Irish hands on the 2014 trophy, as he became the last person from foreign fields to lose his place. Lundy open shipped with [Ac] [Ks] only to walk into the pocket aces of Clarke.
A nice start for Clarke and it was about to get a whole lot better.
Barry Donovan opened from first position for 175,000 and Clarke flatted out of the big blind. The flop was [Jc] [Tc] [9c] and all hell broke loose. Donovan bet 230,000, Clarke re-raised to 515,000, Donovan moved all-in and Clarke made the call.
Donovan turned [Ks] [Kc] for the over pair and draws, and Clarke turned [Ts] [Td] for middle set. The set held and Clarke moved forward with a Great Wall of Dublin type stack.
Michael Gilligan was out in sixth after moving all-in from the hijack and that man Clarke was once again ready and waiting with the call. It was [Qc] [Tc] for Gilligan and [Ac] [8h] for Clarke. There was a flush draw on the flop, but it also contained an ace, and the pair held strong.
Another exit, and this time the axe of Clarke was given a rest as Thomas O'Shea took out Oliver Lynch. The latter moving all-in with [Ah] [Ks], O'Shea called with the lovely looking [Js] [Ts] and a ten on the flop did all the damage.
O'Shea couldn't maintain that momentum and eventually left the contest in fourth place. Once again it was Clarke with the head lopping when he moved all-in holding [Ah] [Tc] and O'Shea – who had opened the button – made the call holding [Qc] [9c]. No salvation for O'Shea and Clarke was eating men alive.
Liam Chevalier would step aside and allow Dave Pollock and Patrick Clarke to fight for the title. He moved all-in from the button, holding pocket fours, and Clarke looked down to see a pair of snowmen and it was Chevalier's heart that was soon melting.
8.3m v 3.7m and it was all over bar the shouting in the last hand of the night.
Dave Pollock limped on the button and Patrick Clarke checked his option in the big blind. The pair saw a [Ks] [7s] [2h] flop, Clarke checked to Pollock who bet 350,000, Clarke check-raised to 800,000, Pollock moved all-in and Clarke made the call. Pollock held [Qs] [7c], for a pair of sevens, and Clarke held [Kd] [8d] for top pair. The turn was the [4h], river [Jh] and the dominant Clarke was crowned the newest Irish Open Champion.
Final Table Standings
1st. Patrick Clarke – €200,000*
2nd. Dave Pollock – €130,500
3rd. Liam Chevalier – €97,500
4th. Thomas O'Shea – €73,800
5th.  Oliver Lynch – €54,500
6th. Michael Gilligan – €38,500
7th. Barry Donovan – €26,500
8th. Jonathan Lundy – €19,250
*Clarke also won €50,000 as the Paddy Power Sole Survivor