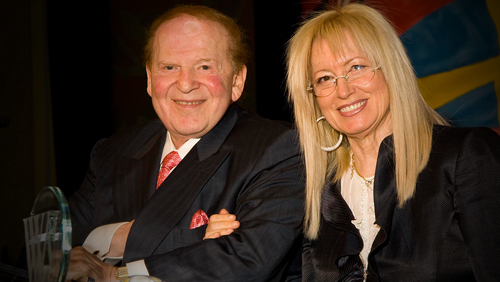 Sheldon Adelson and his wife Miriam have donated $16.4m to the Israeli non profit organization SpaceIL as they bid to land the first Israel spacecraft on the moon.
Is Sheldon Adelson planning to take over the moon?
The Octogenarian casino magnate, and his wife Miriam, have turned off the Republican presidential campaign faucet, and instead redirected their millions into the pursuit of space travel.
Space IL are one of many companies that are involved in the Google Lunar X Prize competition that will award $30m to the first privately funded team that successfully lands on the moon, and they now have a great chance of taking that prize after becoming the recipients of a gambling cash injection.
"Sheldon and I are very excited to be supporting Space IL in an effort to land the first Israeli spacecraft on the moon." Said the Israeli born Dr. Miriam Adelson.
The team is planning to build the world's smallest spacecraft and at a cost of $36m the nonprofit will be loving life after the eighth richest man in the world has placed an arm around them.
The team, which started off as just three engineers, now consists of over 250 volunteers, 20 full-time staff, and a billionaire that thinks that online gambling is the scourge of the earth.
Perhaps, there is more to this than meets the eye?
Perhaps, Adelson plans to take over the moon.
Once he has carved up the land and called it his own he can become president, create his own government, create online gambling and then ban it, and earn billions by sending gamblers to his new lunar based gambling enterprises and robbing everyone blind.
Now that's got to be cheaper for him right?
"As an entrepreneur, nothing is more thrilling as supporting a group of people who have been told that their dreams cannot be realized." Sheldon Adelson told Haaretz.
I know a few million iGamers who would agree with you.
Comments