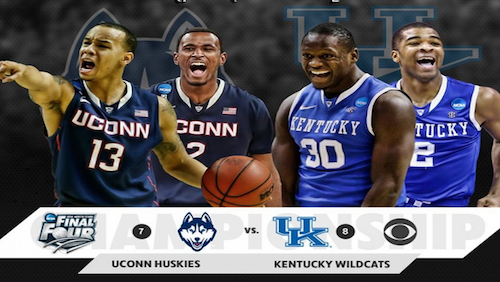 For the record, I had Florida beating UConn and I had Wisconsin surviving Kentucky.
For the record, I ended up being a two-time loser with my Final Four picks after seeing both my teams get sent packing.
What the hell, Wisconsin?!
Worse, what the f$#%! was that Florida!?
Okay, I'm not wasting any more space on those two teams because it just wouldn't be fair to the two teams that did make it to the championship game.
No. 7 UConn versus No. 8 Kentucky. I don't think I've ever seen two teams with such high seeds play for the national title. Usually, you at least have at least a four seed in there, but give credit to these two squads. They peaked at the right time and now, they're both one game away from adding yet another national title in their trophy case.
Las Vegas sports books seem to be unanimous in their belief that Kentucky is a short favorite and the opening line of -2.5 was across the board. Some books moved it as high as -3 whereas others dropped the half-point, settling at -2. But the indication is clear as day: despite having a higher seed, the freshman five of the Wildcats are tipped to win over the Shabazz Napier and the Huskies.
So far, books have seen action on both sides with a slight edge on the underdogs. It figures as much that the Huskies can pull it off and at least cover the short spread. So far, UConn has been 5-0 against the spread in the tournament and they're more than capable of keeping this game close thanks to its bruising style of defense.
This game is fixing to be a battle of styles and philosophies and who can impose their style on the other is likely going to win. Kentucky has the pedigree and the battle-tested head coach on its side while Connecticut has experienced players on its side. Something's gotta give, right?
Ask me and I'll take UConn. But don't take my word for it, judging by how my bracket has turned into.
Comments