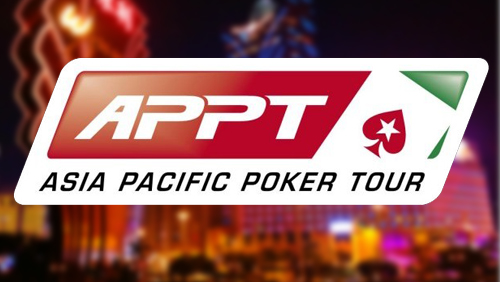 APPT Macau and Macau Poker Cup announce their schedule for Season 8 and it is set to be the biggest and baddest season in its history.
The popularity of poker is growing in Macau and one of the reasons for this is PokerStars LIVE Macau card room in the City of Dreams.
It is the one place in Macau that offers an entry point for the live cash game players looking for a much lower buy-in, and is the live tournament epicenter of the former Portuguese colony.
The eighth season of the Asian Pacific Poker Tour (APPT) will head to the gambling Mecca from May 14-25, and will feature 12-official Asia Player of the Year events over the full 12-day schedule.
As usual the piece de resistance will be a US$3,200 Main Event and that will run May 21-25.
"PokerStars LIVE Macau has been breaking records all year long. Players are telling us that they love these events, and this is demonstrated in the huge number of players that are taking part," said Danny McDonagh, PokerStars Director of Live Poker Events.
"MPC20, the Platinum Series III, and Macau Millions have all hit new highs and the team has every reason to believe that this will be the biggest ever APPT Macau as well."
Tour highlights include a HK$5,000 APPT Warm-up event which carries a HK$1m guarantee, a HK$15,000 No-Limit Hold'em (NLHE) event and a HK$100,000 High Roller Event.
For a complete APPT Macau schedule head to www.appt.com and take a gander.
Macau Poker Cup Schedule Announced
The APPT have also announced the details of the 21st edition of the Macau Poker Cup (MPC). The series will run Aug 1-17, and will consist of a 17-day schedule with 14-official Asia Player of the Year events.
Once again the Red Dragon Main Event will take centre stage with a HK$11,000 buy-in offering a HK$5m guaranteed prize pool.  Highlights include a HK$20,000 NLHE event and $HK80, 000 High Roller.
Full details of the Macau Cup schedule can be found at www.PokerStarsLIVEMacau.com.