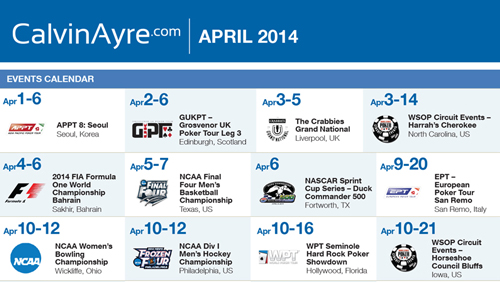 With the Easter Holidays around the corner, April is a light month when it comes to gambling industry conferences and events.  And we'll take it because May, June and July are shaping out to be anything but light.
However, things are always moving at lightning speed in Bitcoin land and we'd like to feature one of their events for the month of April.
Bitcoin Expo 2014
In just a handful of days, Toronto will play host to the very first annual Bitcoin Expo 2014.  This event was established to help Bitcoin organizations grow and build awareness of the virtual currency around the globe.
The event includes features such as the "hackathon", a banquet dinner, a tradeshow expo, international keynote speakers and a number of relevant sessions.  The organizers have also built in plenty of time for networking and knowing the Bitcoincommunity, the post conferenceactivities will likely involve some cocktails and early morning hours.
Expo organizer Stuart Hoegner, General Counsel to Bitcoin Alliance of Canada, told CalvinAyre.com, "The Canadian Bitcoin Expo promises to be the biggest Bitcoin event in Canada thus far, and one of the biggest in the world. One of our themes is global partnerships, which is particularly relevant at this stage ofBitcoin's development. We hope that our mix of networking, entrepreneurship, expert advice, and community building will be unique in the industry".
What:Bitcoin Expo 2014
When: April 11-13, 2014
Where: Metro Toronto Convention Centre, Toronto, Canada
Register: Online