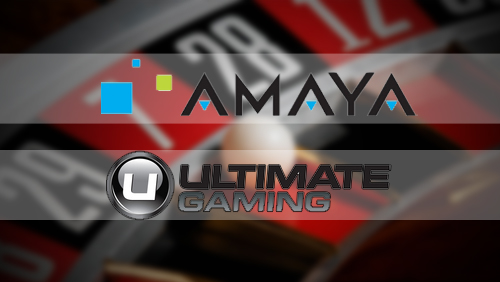 Amaya Gaming Group add more weight behind their New Jersey iGaming presence with a deal that will see them integrate their casino gaming system with Ultimate Gaming's UCasino.com.
The Canadian gaming guru's, Amaya Gaming Group, have followed up on their excellent 2013-year end results by inking a deal with the Station Casino-owned Ultimate Gaming, in the New Jersey iGaming space.
The Group recently announced year-end revenues of $154.53m, an increase of 102% from their 2012 haul of $76.44m, and they are looking to New Jersey to pile on a few more bricks of green after shaking hands with the chiefs at Ultimate Gaming.
The new deal will see Amaya's Casino Gaming System (CGS) go live on the operators UCasino.com. A New Jersey online collaboration between Ultimate Gaming and the Trump Taj Mahal Casino.
The Toronto-listed firm has around 70 casino games ready for export to the New Jersey site along with a raft of HTML5 games that will become available on mobile devices.
The deal also holds a caveat or two that will allow integration of Amaya's CGS on other Ultimate Gaming platforms in the future. Under the terms of their arrangement Amaya will receive a percentage of aggregate net revenue generated through the success of their games, and also a percentage of revenue generated on third-party games hosted on their CGS.
"We are excited to provide Ultimate Casino's players with access to Amaya's leading selection of online casino content," remarked Ultimate Gaming Chief Executive Officer Tobin Prior. "Providing high quality, engaging and entertaining games from top content providers like Amaya is key to delivering the best possible experience to our players."
Amaya Gaming's relationship with Ultimate Gaming further strengthens what is already a tight foothold in the New Jersey iGaming household. The Canadians have already hooked up with Betfair, Caesars Interactive and Bwin.Party.
Ultimate Gaming's New Jersey facing business has generated $1.45m in revenue since opening it's cyber doors, and the introduction of more variety in gaming comes at a good time after revenues plummeted in February, dropping  31.6% month-on-month to $587,323.