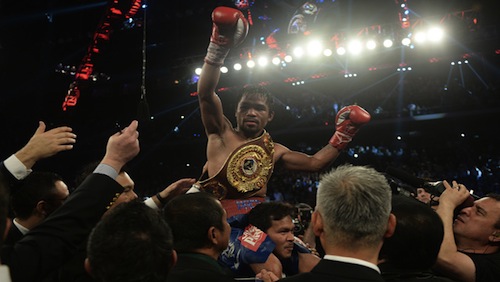 Macau's boxing and MMA cards are drawing in more fight fans in the Chinese territory, but despite owning Las Vegas in every conceivable way since the former assumed the role of being the world's biggest gambling market, Macau still has a long way to go to become the premier fight destination for boxing and MMA fights.
First of all, this isn't to say that it can't handle hosting sporting events in its resorts, especially boxing and MMA fights. It's actually come a very long way since the market was opened to foreign operators, culminating in a series of fights held by Top Rank Boxing last year, including Manny Pacquiao's brutal beatdown of Brandon Rios last November.
Just a month ago, Top Rank even returned to Macau to host the "Ring of Gold" boxing card, which saw Chinese Olympic gold medalist Zou Shiming score his first career stoppage win against an overmatched Yokthong Kokietgym. Nobody's going to to mistake Shiming as a future world champion – he's already 32 with no elite talent to speak of – but his popularity in Macau and China is undeniable, even if his role in Top Rank is more of a poster boy to its plan of planting its flag in the lucrative Chinese market.
The boxing outfit knows what's going to draw in Macau, and having Pacquiao fight there last November was the first clear sign that you can hold successful boxing cards in the Chinese territory.
The question now is sustaining that level of momentum and giving fight fans more enticing fans that they can watch live. Make no mistake, there's still a big gap between Vegas and Macau in this department. Floyd Mayweather Jr., the biggest draw in boxing, is about as likely to fight in Macau as he is agreeing to fight Pacquaio just about anywhere. And speaking of PacMan, despite saying all the right things leading up to his fight with Rios, it's no accident that he eventually decided to return to Las Vegas for his April 12 rematch with Timothy Bradley.
There's a market for boxing in Macau and if Top Rank can keep fight fans interested in paying to see the fights, then you can see some returns to their investment in the future, possibly with the future crop of fighters that are beginning to make names for themselves in the sport. Just don't expect today's biggest names to fight there anytime soon. Not with the comforts of Vegas right in their backyard.
It's still an uphill battle for boxing to gain the kind of traction in Macau it already has in Nevada. It's gotten off to a good start, but if it hopes to make a dent and steal away the prize fights normally held in Nevada, it needs to convince some household names to make that trip to the other side of the Pacific. so all those high-rolling Chinese VIPs can see these men fight in the flesh.
That's boxing's issue. As far as the UFC is concerned, the Dana White-run organization has been more pro-active in its plans for expansion. The recent UFC Fight Night card in London headlined by Alexander Gustaffson is proof of that, but Europe isn't the only place UFC is planning to conquer.
In the past few years, the UFC has gone to Macau to hold some interesting cards, the most notable one being a UFC on Fuel TV card that saw kickboxing champion Cung Le knock the business out of one of the the organization's most bankable stars, Rich "Ace" Franklin. Since then, the UFC created the Ultimate Fighter China, culminating with the finale earlier this month when Dong Hyun Kim scored a third-round stoppage of John Hathaway.
Shortly after the finale, UFC executive Mark Fischer also announced that UFC will return to Macau for the third time, only this time, it will be under the banner of UFC Fight Night. No fights have been scheduled, but it does go to show the level of commitment the organization has in becoming a major player in a largely untapped yet lucrative market.
Between the two, it appears that the UFC is has taken a more aggressive approach in trying to break into Macau market than what boxing is doing these days.  At this point, it won't surprise us if the UFC holds a multitude of its pay-per-views in Macau in the near future.
That's the kind of commitment Macau needs to have if it has any chance of usurping Las Vegas as the premier destination for prize fights. It's unlikely it'll happen now and in the foreseeable future given geography issues, but if Macau can put a dent to it, then that's all it needs to attract even more boxing and MMA fans into its borders.
Comments