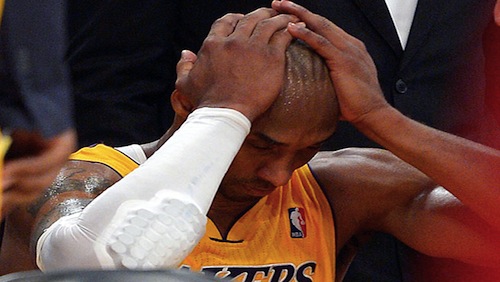 Handicapping professional sports is a tricky escapade even for the most hardened of handicappers. So imagine how difficult a proposition it is when injuries are taken into the equation, especially when the stars and superstars go down. In baseball or football, the drop off isn't that significant if one or two players are missing. That's what depth is for and a lot of teams usually have capable backups that can spell injured stars when those specific moments arise.
Basketball is different because, for one, there are only 12 active players at a time and a team can only carry a maximum of 15 players. So when a star goes down, a team typically has trouble coming close to replicating the production the injured star is capable of producing on any given night.
Take the Los Angeles Lakers for example. Kobe Bryant's injury is devastating enough in its own right, but the lack of capable backups has torpedoed the Lakers' season. It's gotten so bad that LA, normally a heavily bet-on public team, has been relegated as underdogs in 49 of its 61 games this season.
In the six games Bryant has played, Los Angeles was favored in two of them (-6 against Toronto and -3 against Phoenix) and except for being +12 against Oklahoma City, their dog lines in the other three games were short numbers. So take those games out of the equation and LA have been dogs in 45 of the 55 games with Kobe out of the lineup.
Another reason why stars are so important in the NBA is because of their two-way capabilities. The NBA isn't set up like the NFL where a quarterback like Peyton Manning has no direct effect on how the Broncos defense plays on the other side of the ball. In the NBA, some of the biggest superstars are also some of the best two-way players, meaning they have a significant effect on what happens on the offensive and defensive sides of the ball.
There are times when a team's play doesn't suffer the same kind of drop-off if one of its stars are out of the lineup. Oklahoma City and Miami have played a significant part of their schedules without Russell Westbrook and Dwyane Wade in the lineup. Having Kevin Durant and LeBron James in the lineup helps alleviating the absence of those two stud guards, but any other team who losses its star usually sees their lines swing dramatically in the favor of an opponent.
Another important factor to keep in mind is the schedule. When a star misses a slew of games, the effect wouldn't be as dramatic if a team enters a soft schedule. Let's say, the LA Clippers miss Chris Paul for four games, but those four games are against the Milwaukee Bucks, the Philadelphia 76ers, the Orlando Magic, and the Utah Jazz. The line doesn't swing as dramatically as a four-game schedule against the Heat, Thunder, San Antonio Spurs, and Indiana Pacers.
We've already tackled depth, but it's also worth emphasizing that a team with good backups will be more inclined to stay competitive – sometimes even win or cover – in games where their stars are in suits compared to a team that has a depth worthy of the D-League. The Lakers have struggled mightily this season in large part because they don't have the players that can replicate the output of its stars. In some games, it's gotten so bad for the Lakers that it's been forced to give heavy minutes to dudes like Robert Sacre, Jodie Meeks, Ryan Kelly, and the immortal Nick Young. Not exactly a team that opponents take time to prepare for, right?
By contrast, the Thunder have been able to keep up their winning form in large part because Westbrook's backup, Reggie Jackson, has proven to be more than capable of running the team even with Russ' absence. Durant's MVP play is still the biggest reason but make no mistake: Jackson has been a revelation this year and has contributed enormously in allowing the Thunder to rack up wins.
But the best example of a team with depth that can withstand the loss of its star players is the San Antonio Spurs. In large parts of the season, the Spurs have played without Tony Parker, Tim Duncan, and Kawhi Leonard. But with guys like Patty Mills, Marco Bellinelli, and Tiago Splitter providing quality production, San Antonio has kept pace with the rest of the West's powerhouse teams despite its stars missing a significant chunk of games.
So when you're handicapping NBA games, paying attention to the injury report is about as important as any record, stat, or trend you can study. The biggest attributor of line swings in NBA games are injuries so if you're understand how a team can handle injuries to their players, especially their stars, you'll have a better understanding of gauging how much value a given line is for a certain game.