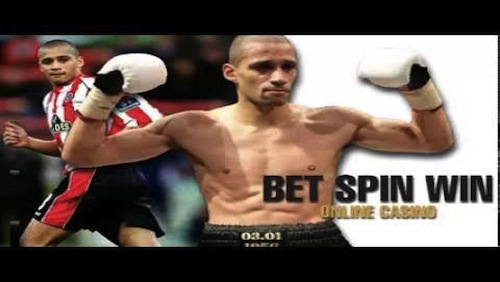 BetSpinWin may be a newbie in the world of online casino, but the company sure knows where to put its money on to get attention. The full-featured online casino with best-of-breed online and 3D slots from providers including Microgaming and BetSoft Gaming has announced that it will sponsor British boxer Curtis Woodhouse in his light-welterweight title fight this coming Saturday, February 22 in what Woodhouse admitted would be his farewell fight in the world of boxing.
So why is this a significant sponsorship deal for BetSpinWin other than the fact that it's going to have its logo plastered somewhere in Woodhouse's trunks? For one, Woodhouse, who has a respectable 21-6 record, isn't your typical British pugilist. He first made a name for himself as a member of England's Under-21 team and professional football clubs Sheffield United and Birmingham City, before walking away from the sport to pursue boxing.
But there's another reason why Woodhouse has become kind of a household name, at least as far as my household is concerned. Last year, he made headlines for famously hunting down a Twitter twoll that had been heckling him after he was beaten in a fight. Woodhouse even took the time to drive the 70 miles to where the troll lived, coming as close as the actual street of the keyboard hater before said hater wet his pants in fear.
So yeah, Curtis Woodhouse is an interesting man, and BetSpinWin had no problem agreeing with that sentiment. We decided it was a no-brainer to be associated with Curtis Woodhouse," a company spokesperson said. "He is greatly loved in boxing, and sport in general, due to his drive and desire, plus the fact he is a complete character."
A character Curtis Woodhouse really is. Hope he gets to go out on his own terms, which if you asked him would be winning the light welterweight title from Darren Hamilton and walking into the sunset with hand raised high.
Comments