After a very busy day one and day two of ICE Totally Gaming, the third and final day of the conference was a lot more relaxed and quiet.  We're certainly not complaining as relaxed can be a good thing, especially when your feet are aching, your head is pounding and your brain is properly fried.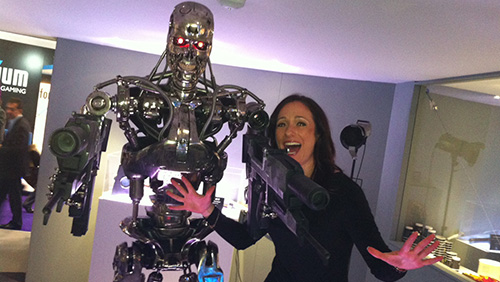 After years of attending ICE, the best formula seems to be to leave the booth gawking for last, which is exactly what we at CalvinAyre.com did today.The crowds are always a bit thinner on the third day and the tube strike likely influenced people's decisions to stay home if they were on the fence.  Regardless, there was still plenty to do and the exhibitors seemed pleased with their foot traffic overall.
Two booths and displays that truly stood out on the floor today (and for the last three days) were software providers Microgaming and Playtech.
Microgaming sponsored the conference's main bar, they had a huge booth space with their new products on display and they had a selection of "props" to promote a variety of branded slots.
The Microgaming Jurassic Park dinosaur was on display in the ExCeL hallway, complete with its roars and mechanical movements and a 1950's playboy outfit along side a model of the Terminator II were on display closer to the company's booth.
Playtech had an incredibly impressive display at ICE with the message of "play anytime, anywhere", a message that they successful conveyed at their interactive booth.
Delegates interested in learning more about Playtech's products were invited on a "tour", that is if they were able to sign up before it was sold out, so they could sample Playtech's betting shop, land based casino, mobile and web software.  To illustrate the message that Playtech's solutions allow players to use the same account for retail and online, the tour went from a casino, to an actual London double decker bus, to a home to illustrate the software's flexibility AND the tour was finished off with an fresh Auntie Annie's pretzel as a reward for the experience.
While the huge booths at ICE are impressive beyond belief, there is also value for companies who exhibit in a smaller space.  After talking with some of the newer and more modest companies, the message was clear that they were pleased with the business they picked up at ICE and would be happy to book the booth space again.
Jason Trost, CEO of smarkets had a nice little space in the back corner and said the foot traffic to his booth was busy and that he had done a number of deals at the conference.
Software provider Chetu was also pleased with their booth space and Chetu's Joe Maltese told CalvinAyre.com that not only is ICE a great opportunity to meet potential customers, but its also a great place to reinforce the relationships discovered at other events such as EiG and G2E as often times there is crossover between the events.
Another observation we made at ICE over the past few days is that while the event is located in London, delegates are coming in from around the world and the sessions taking place cater to a global market which is what the industry has developed into today.
Ros Wade of Asia Gambling Brief moderated a session at ICE that focused on the Asian market alone.  Wade confirmed that the session was well attended and that there are a number of European companies that are interested in what the Asian market has to offer, likely a crossover that we will see more of by ICE 2015.
Also, check out ICE Totally Gaming Day 1 Summary Video, Day 2 Summary Video, London Baby! Party Highlights Video and Fire and Ice Pantheon Highlights Video.